Main Features
3G UMTS/W-CDMA/Tri-band GSM phone with 1.9 TFT 176x220 65K Color Screen, Dual VGA cameras, MMC Memory Expansion slot with a focus on media player and streaming video capabilities.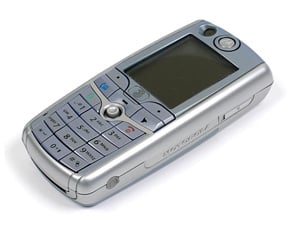 Marketing / Positioning
This particular model that we have torn down is marketed by ThreePay in the UK, and is offered as a 'pay as you go' phone by the company. Motorola's market focus for this phone is similar to that of the stylish E398, which also featured media-player features and was also focused on a youth demographic. This device is also similar in physical form and style to the Motorola A835 (also a 3G WCDMA large candybar phone with dual cameras) and is relatively bulky and heavy when compared with other candybar phones with more limited network capabilities and feature sets.
The 3G feature set, memory expansion, and use of internal graphics processor to accommodate streaming video functionality (as well as other features) places this phone on the higher end of those we have seen and analyzed, and is assumed to not be a high-volume seller.
iSuppli forecasts that approximately 55 Million W-CDMA/UMTS/3G handsets are to be sold worldwide this year. Furthermore, based on relative market shares, we would expect Motorola to be delivering approximately 20% of that segment, or approximately 10M units for the year. Motorola's UMTS portfolio contains, to our knowledge at least 13 models including all of the following: E1000, E1060, E1120, A1000, V1000, V975, C980, V980, A835, A1050, V1050, V1150, as well as the C975 analyzed here.
Our assumption of 500K units for this particular model is not considered to be necessarily 'market accurate', but is used primarily to estimate amortized NRE and other setup costs throughout the analysis at various levels of assembly and test.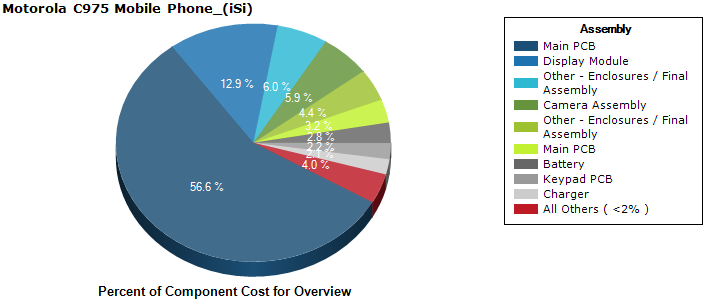 Cost Notes
Main Cost Drivers representing approximately 55% of total materials cost
Main Display (1.9", TFT 176x220 65K Color, AU Optronics)
Applications Processor (Freescale SC29412VH)
Memory (Flash / SDRAM)
Baseband Processor (Freescale MMM7200)
Multimedia Processor (nVidia GOFORCE 4000)
Subtotal - Total Direct Materials Cost
Materials and Manufacturing*
* This cost reflects only the direct materials cost (from component vendors and assorted EMS providers), manufacturing and test. Not included in this analysis are costs above and beyond the manufacture of the core device itself - cost of packaging, literature, shipping, logistics marketing and other channel costs including not only EMS provider and Motorola's margin, but that of other resellers. Our cost analysis is meant to focus on those costs incurred in the manufacture of the core device (the phone, in this case) itself.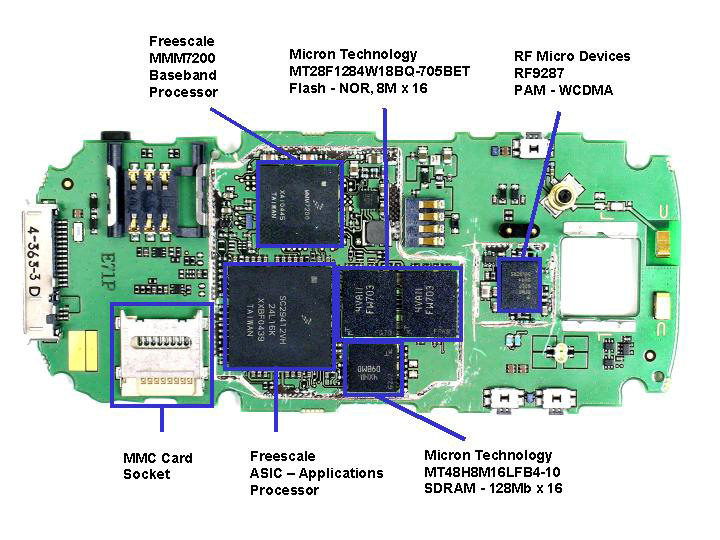 Manufacturing Notes
Labeled as Made in Germany, it is assumed that only final assembly took place in Germany, due to the high relative cost. We generally assume, if lacking proof positive otherwise, that although the final assembly may take place in Germany, other phases of assembly, or sub-assemblies will be manufactured in the lowest regional cost area - in this case Eastern Europe - this includes PCB stuffing and plastics molding, as well as other custom mechanical components. These assumptions affect both the assumed costs of manually manufactured elements (based on relative local skilled and semi-skilled labor rates), and auto-inserted device (such as surface mount components on PCBs). These labor rate assumptions are outlined in the Overview section of the online presentation or the COO Notes tab from the Excel spreadsheet analysis.
Again, our total production volume assumption used here (500K units over phone life) may not be highly market accurate from a marketing point of view, however, it is used here for the purpose of estimating the amortization of certain test set-up costs and other NRE charges for such things as injection molding tools for the enclosures, etc.
Although this assumption affects the bottom line, changes in the quantity assumption generally produce a very small total cost variance, as typically in quantities of several hundred thousand and up, amortized NRE costs are usually quite small on a per unit basis.
The Motorola C975 is not as complex as most flip phones that we have analyzed, which is generally true of all candybar form factor phones versus competing flip phone models. Furthermore, most of the discrete components are on a single main printed circuit board. Hand assembly is somewhat complex, however, as the C975 uses a lot of flex interconnect, rarely seen, and generally unnecessary in candybar form phones. In terms of manufacturing complexity, Nokia phones typically have the most clever DFM touches, use almost no flex circuits or fine-pitch board to board connectors snap in camera modules with compression connectors, and as a result are easy to manufacture. The C975 is more akin to a flip phone in this respect and the design is more involved resulting in higher manufacturing cycle times.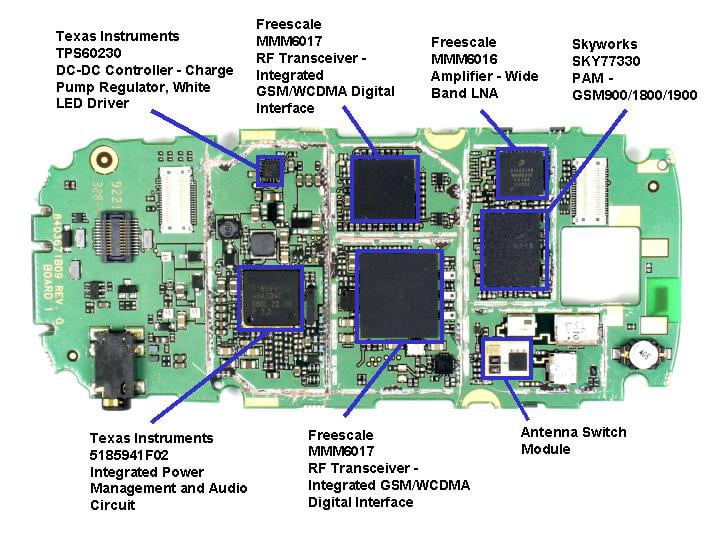 General Design Notes
The C975 appears to use the i.300-20 Platform chipset from Freescale Semiconductor
The applications and baseband processors are part of what a total solution chipset for 3G phones from Freescale (formerly Motorola) semiconductor and may be part of the Freescale ""i.300-20" GSM/EDGE/W-CDMA/UMTS platform with multimiedia feature focus.
Based on the layout of the C975 and the block diagram from Freescale, the ""-20" version (as opposed to the ""-30 and ""-23" versions) seems most applicable.
i.300-20 Features
High level of integration
GSM/UMTS software engines to maximize performance and compatibility with networks
Integrated image and video capture and compression
JavaTM technology
Provides multimedia, Internet access, still imaging, and streaming video and audio.
Chipset and communication software capable of supporting GSM, EDGE, and W-CDMA services.
Supports Bluetooth™ technology from Freescale (not featured in the C975).