Semicon Europa 2013 just ended. As usual, many voices, trends and future solutions were presented in a three day gathering of researchers, engineers, tool manufacturers, and chip companies from all over the world.
For these groups, this annual event—which takes place in Dresden, Germany—represents a showcase of new products as well as new research topics and techniques. There were many interesting presentations, ranging from market forecasts of the future of foundries and the outlook of LEDs and memory, to challenges surrounding the transition to 450-mm wafers. Lithography, silicon photonics, new materials and TVS and 3D packaging were among the most prevalent and important discussions.
A topic that was especially hot at this year's event was the European initiative called EU 10|100|20. This European Union (EU) directive will try to gain back some of the semiconductor manufacturing that was lost to Asia, in particular, as well as the United States. EU 10|100|20 was unveiled in May, but the big announcement event was reserved for Semicon Europa. Several European dignitaries were present and made a good pitch to an attentive audience. Rania Georgoutsakou, the director of public policy Europe, offered a well-attended conference/workshop.
Georgoutsakou started her presentation by quoting Neelie Kroes, the vice president of the European Commission, who launched the directive. "This ambitious strategy is meant to get at least 20 percent of semiconductor manufacturing back to Europe by 2020. This will be achieved by an unprecedented public and private investment," Kroes said.
The initiative consists of three pillars targeted to pool resources and focus on world-leading clusters and competitive industries:
10 billion Euros in private/public investment in research & innovation
100 billion Euros in industry investment in manufacturing in Europe
20 percent of the world chip production market in Europe by 2020
"I want to double our chip production to around 20 percent of global production," Kroes said in May." I want Europe to produce more chips in Europe than the United States produces domestically. It's a realistic goal if we channel our investments properly…We have to reinforce and connect our existing strongholds and develop new strengths."
This is not only a vision, according to Georgoutsakou, also a strategy that will bring together the best minds and companies to leverage a major opportunity for "equipment manufacturers and material suppliers to participate in a big-scale investment projects, acquire new technologies and reach to new markets and customers."
Where the money will be invested?
The long-term beneficiaries will be the entire semiconductor supply-chain: design providers, device manufacturers, equipment manufacturers, materials suppliers, research centers, large companies, and small companies which will be offered access to the top technologies and the best European research centers. The initiative will focus on three established clusters of excellence, with a total of 750 science and industry partners:
The German city of Dresden, already known as the Silicon Valley of Europe, or Silicon Saxony. This cluster has 301 science and industry partners.
The French city of Grenoble, one of the most important European centers in micro- and nanotechnology, with 204 partners.
And the cluster formed by the cities of Eindhoven in the Netherlands, Leuven in Belgium and Aachen in Germany. The three cities are in close proximity to each other, and their partnership aims to promote international and interregional cooperation in the field of knowledge and innovation. This cluster adds 245 partners.
The following figure depicts the distribution of these clusters: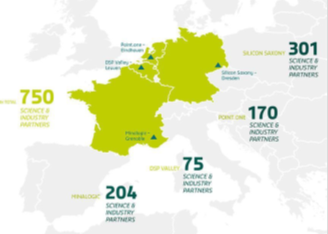 The investment will target these general areas:
"More than Moore" on 200-mm and 300-mm.
"More Moore."
The 450-mm transition.
When?
According to Georgoutsakou, the "vision" has already started with five new pilots that were launched in May 2013 under the ENIAC Joint Undertaking (JU), an EU private and public funding program focusing on nanoelectronics. The combined investment in these five pilots is over 700 million euro, and has brought together more than 120 partners from across Europe. These pilots will strive to perfect new technologies and tools for GaN substrates, 450-mm equipment and materials, new MEMS smart sensors and actuators, 300-mm power generation semiconductors, industrialization of 28/20nm FDSOI (fully depleted silicon on insulator), and other technologies.
What companies are eligible?
Funding is available to all companies in the EU. Foreign companies located outside the EU are eligible if they already have cooperation agreements with EU institutions. Foreign companies established within the EU are also eligible. In addition to corporations, EU funding for participation is available to research centers, universities and clusters.