It seems like barely a day goes by without news of new strides being made in the creation of text and images — not by the creative workforce that has traditionally produced this type of ubiquitous content, but by generative artificial intelligence (AI). As a recent article in the Harvard Business Review explained, complex machine learning models are being used to predict the next word based on previous word sequences, or the next image based on words describing previous images.
The HBR piece puts its focus on the impact of AI-generated content (AIGC) on companies involved with content creation — but AIGC is also driving a new wave of network transformation, creating large-scale workloads that require data exchange among tens of thousands of servers executing billions of parallel computations for massive data training.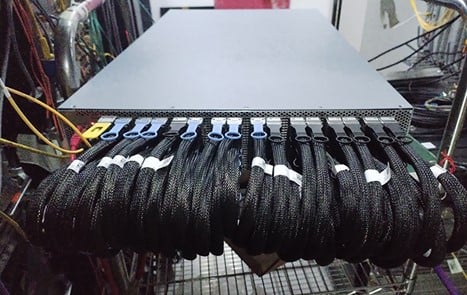 This large-scale 800G test site was used to validate the performance of a new generation of data center switches. Source: New H3C Technologies Co. Ltd. With 800G and 1.6T expected to become the standard for large-scale training in the future, the growing demand for computing power is driving new requirements for high-quality network connections — such as the performance of next-generation switches essential for overall network efficiency and response speed.
Test and assurance solutions provider Spirent Communications reports that it has collaborated with digital solutions provider H3C to successfully complete what it calls the industry's first large-scale high-density 800G Ethernet test. Leveraging its high-density 800G OSFP and QSFP-DD test platform, the Spirent TestCenter 800G B2 Appliance, Spirent validated the reliability and performance of the H3C S9827 series — a new generation of 800G data center switches based on co-packaged optics (CPO) silicon photonics technology.
According to Spirent, test results showed a total switching capacity of up to 51.2T, with all 64 ports achieving 100% line speed forwarding under different traffic. Each port transmission rate reached 800 Gbps, with the integrated CPO silicon photonics technology meeting the high throughput demands for intelligent computing networking. This translates to suitability for AIGC clusters and other high-performance data center core switching and related applications, which may help to unleash optimal computing power in the era of AIGC.
Spirent adds that because its B2 appliance does not depend on a particular interconnect strategy, it offers customers the flexibility to use a test platform native to their actual network deployments. And validating switches is just the tip of the iceberg: The B2 offers the density, flexibility and performance features needed to validate the next generation of switches, routers, chipsets and data center fabrics. This tracks with an Electronics360 report from last November, describing the B2's role in a test of 800G data center interoperability using Nokia routers and processors.