Autonomous vehicle (AV) technology is set to become the biggest disruptor the automotive industry has seen in the past century. While some say the age of the AV is just around the corner, the consensus seems to be that Level 5 automation (denoting true driverless cars with no steering wheel or gas and brake pedals) is a long way off.
Six levels of vehicle automated driving are defined by the Society of Automotive Engineers (SAE) International:
Level 0: No driving automation — The driver is in full control and there is no automation technology. It may include support or alert systems such as stability control and blind-spot warning. Most cars on the road today are level zero.
Level 1: Driver assistance — The driver is supported by one support system, like adaptive cruise control or lane-following assistance, but needs to be ready to take control at any time.
Level 2: Partial driving automation — The driver still needs to be alert and supervise at all times, but the vehicle can take over multiple functions like braking, acceleration and steering, using advanced driving assistance systems (ADAS). The Tesla Autopilot feature is generally understood to fall under level two.
Level 3: Conditional driving automation — After this point the user is not considered to be driving, even if seated in the driver's seat. Using artificial intelligence, the vehicle handles all driving tasks. A driver still needs to be present in case of an emergency or system failure. Honda's Traffic Jam Pilot and Mercedes-Benz's Drive Pilot are the only ones to hit this milestone.
Level 4: High driving automation — This is where the need for a steering wheel and pedals vanishes. A level four vehicle is completely autonomous but is limited by speed or to a certain geographic area. In the event of a system failure or emergency, the vehicle can slow down, pull over and stop on its own. A driverless taxi or public transport would be a likely application at this level.
Level 5: Full driving automation — At this level, humans are completely superfluous and need only set the destination, sit back and enjoy the ride. The vehicle can drive in any situation, in all conditions, and is not limited to a particular location or speed.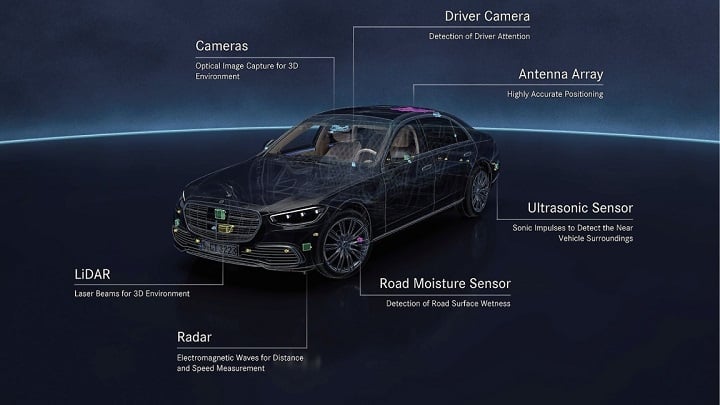 Mercedes' Drive Pilot system uses cameras and sensors to gather data on its environment. Source: Mercedes-Benz
Are we there yet? There aren't any Level 5 vehicles sold publicly as of now, though they are being tested in multiple countries.
Steer directly to technology updates with free subscriptions to the Automotive Technology and Robots & Automation newsletters from GlobalSpec.