Intel Corp. is working with electronic design vendor Pegatron to design a portable 5G network-in-a-box base station for use by Hsinchu, Taiwan's emergency responders.
The device is powered by a portable generator, is highly mobile — about the size of a large suitcase that weighs about 40 pounds — and can easily fit into a trunk of a vehicle, carried in a backpack and deployed in minutes on any terrain.
Why it matters
Firefighters in Hsinchu are using the 5G-in-a-box when they respond to disasters and emergencies. This is particularly important during emergencies in remote areas and mountainous regions where connectivity is limited. Taiwan's mountainous areas makes up about 70% of the country.
Additionally, this 5G box can be used when existing communications infrastructure is disrupted or completed knocked out due to power outages.
"In a mission-critical scenario, we need efficient communication," said Yang Wen-Kai of the Hsinchu City Fire Bureau. "[With] just a small generator, we can power the 5G base station and provide a communication solution for rescue personnel."
The emergency responders began using the solution in October of 2022 and with the network were able to stream high-resolution video from remote areas to aid disaster response efforts. Previously, they only were able to use long-range handheld walkie-talkies for communication.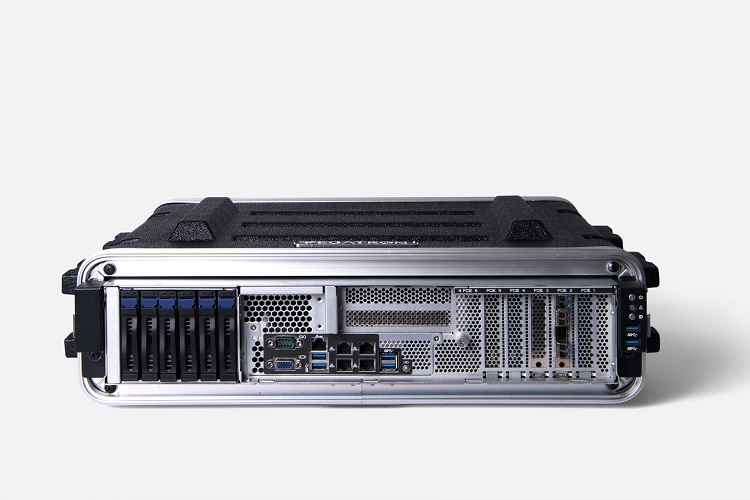 The 5G portable network-in-a-box base station allows emergency responders to connect up to 32 devices, which could be extended to host more with additional 5G cells. Source: Intel
How it works
A satellite dish is used to establish network connectivity to give 5G network bandwidth, latency and speed.
When there is a satellite connection, a 5G radio antenna establishes a 5G network in the immediate vicinity capable of delivering up to a gigabit per second of throughput. This allows emergency responders to connect to 32 devices and the system can be extended to host more users with additional 5G cells.
The 5G-in-a-box is powered by Intel hardware and software, which is compliant to existing 3GPP and open radio access network (ORAN) standards. Each 5G cell includes an Intel Xeon Scalable processor and Intel-based Ethernet NIC. The software is Intel FlexRAN reference architecture for wireless access that creates a scalable cloud-native RAN solution that can run any open cloud-based telecommunications platform.
The next steps are to update the platform for more advanced technology, a smaller footprint and a light package. Intel and Pegatron are also deploying other scalable private 5G networks based on the same technology to other areas in Taiwan such as Taipei's mass rail transit network and at Pegatron's manufacturing facility.