Network bandwidth and performance are growing at a rapid pace to support emerging applications such as 5G, the internet of things, machine learning and artificial intelligence. Chipset vendors and network equipment manufacturers (NEMs) have developed highly flexible, multi-rate products; service providers and data centers have likewise stepped up to market demands with multi-rate networking infrastructure solutions.
For those of us who work in testing, these trends translate to the need for high-density equipment with the flexibility to support both multiple modulation schemes for data center interconnects. Enter the newly launched A2 400G Appliance from Spirent Communications, a 2U rack-mountable platform intended for market segments that require high-density testing capabilities to validate routers and switches.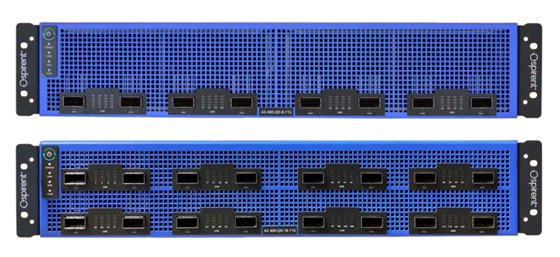 The A2 400G Appliance is available in 8-port and 16-port variants. Source: Spirent CommunicationsThe appliance can be used to validate 400G QSFP-DD architectures for scalability, reliability and interoperability with automation capabilities designed to both save time and accelerate time to market. Seven Ethernet speeds are supported for network traffic testing at line rate; each port supports 1 x 400G, 2 x 200G, 4 x 100G and 8 x 50G (PAM4), and 1 x 200G, 2 x 100G, 4 x 50G, 2 x 40G, 8 x 25G and 8 x 10G (NRZ).
As a flexible platform available in eight-port and 16-port variants, the A2 400G can be deployed for mission-critical scale emulation and select functional testing, such as throughput testing with traffic packet blasting, ASICS testing for chipset vendors and proof-of-concept emulation of real-world service provider customer networks.
Applications include:
Cloud computing/streaming service: Validate data plane quality of service (QoS) on thousands of flows at line rate and test complex routing, data center and access protocols on switches and routers.
Data center top-of-rack (ToR) and end-of-row (EoR) switches and fabrics: Validate forwarding performance, latency, MAC capacity and functional capabilities of ultra-high-scale, next-generation enabled multi-terabit cloud data center fabrics.
Next-gen routers and switches: Test the latest generation of core routers and switches with high-scale, multi-protocol topologies and high bandwidth deployments.
Additional key features include:
Available single-port upgrades
High-density 64 x QFSP28 option (requires external accessory and license)
Support for Ethernet (forward error connection), auto-negotiation (AN) and link training (LT) for all supported speeds and full breakouts
Protocol testing for L2/3 routing/switching and data center test cases