Delta Electronics (Americas) Ltd., (Delta Americas), a subsidiary of Delta Electronics Inc. and provider of smart energy-saving solutions, demonstrated a next-generation silicon carbide (SiC) metal oxide-semiconductor field-effect transistor (MOSFET) solid state transformer (SST)-based 400 kW extreme fast electric vehicle (EV) charger to its U.S. Department of Energy (DOE) grant program partners. These include General Motors (GM), DTE Energy, NextEnergy, Virginia Tech's Center for Power Electronics Systems (CPES), and the American Center for Mobility. At the event, key representatives from the partners shared their vision on how Delta's extreme fast EV charging solution, which facilitates industry-leading charging current up to 500 A, is expected to accelerate the adoption of e-mobility across North America. The demonstration event featured GM's all-electric super truck, the GMC HUMMER EV.
Kelvin Huang, president of Delta Americas, said, "Collaborating with GM, DTE Energy, NextEnergy, the American Center for Mobility, CPES and the DOE has been a privilege. By combining our joint prowess in energy management, e-mobility and R&D, we are building the EV charging infrastructure of the future.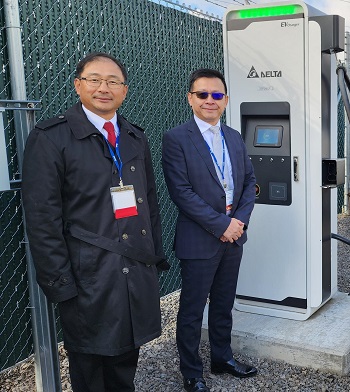 Source: Delta Electronics (Americas) Ltd. Guided by its corporate mission, 'To provide innovative, clean and energy-efficient solutions for a better tomorrow', Delta continuously develops ground-breaking technologies and fosters long-lasting relationships with partners to help achieve mankind's sustainability goals. This is how Delta, a member of the RE100 and EV100 initiatives, has been uniquely able to deliver more than 1.5 million EV chargers worldwide over the past decade."
The 400 kW (1,000 V/400 A, 500 A below 800 V) extreme fast EV charger developed by Delta Americas boasts three-phase 13.8 kV AC medium voltage SiC MOSFET SST topology to provide not only industry-leading 500 A charging current, but also grid-to-vehicle energy efficiency as high as 96.5% with a system weighing four times less than conventional fast DC EV chargers. The next-generation SST technology also offers essential capabilities for smart grid applications, such as reactive power compensation for voltage stabilization and improved power quality. Moreover, its HV DC power architecture enables connection with renewable energy and energy storage systems (ESS) to lighten the impact on the electricity grid during times of high EV charging demand.

By leveraging its core competence in high-efficiency power electronics and long-term commitment to invest over 8% of its annual revenues into R&D, Delta currently nurtures a team of over 9,500 R&D engineers working in more than 70 R&D centers across the world, including state-of-the-art facilities and talent at Delta Americas' automotive R&D center in Livonia, Michigan, and at the Delta Power Electronics Lab inside the North Carolina Research Triangle Park in Raleigh. These resources were instrumental in the development of the 400 kW extreme fast EV charger.