It's no secret that ARM Holdings Ltd., a U.K.-based company that licenses its low-power processor core designs to semiconductor vendors worldwide, is king of the smartphone market, an area where Intel has had little success. Now ARM is moving up the system food chain and directly challenging the world's biggest semiconductor company in servers, where 95 percent of the machines are based on Intel microprocessors. Key shifts in the server supply chain, both in terms of hardware and software, may be playing in ARM's favor.
ARM "was in the right place at the right time with the right business model," said Raj Seth, a former equity analyst who has covered ARM for 15 years. Founded in 1990 as Advanced RISC Machines, ARM developed a microprocessor design that focused on low power consumption. The design was interesting, but not earth-shattering, until the mobile device market took off. Today, "low power is one of the principal design constraints in semiconductors," said Seth. "Everyone's scrambling to try to find more power-efficient architectures and systems."
And many of them are turning to ARM. Shipments of ARM-based processors have more than doubled over the last four years, growing from 3.9 billion units in 2009 to 8.7 billion in 2012, as they've been designed into most smartphones and media tablets on the planet. ARM said it has more than 95 percent of the smartphone and tablet market, and the company's revenue has risen steadily, reaching $913 million last year (See the charts below.)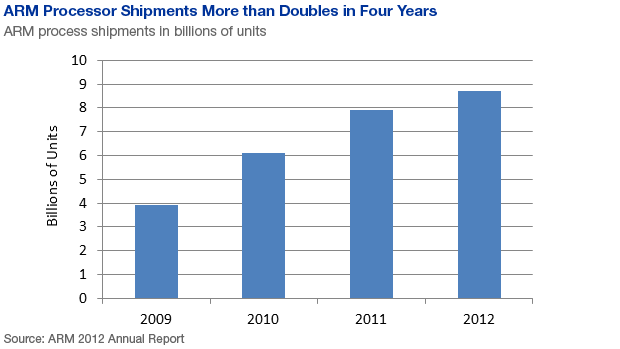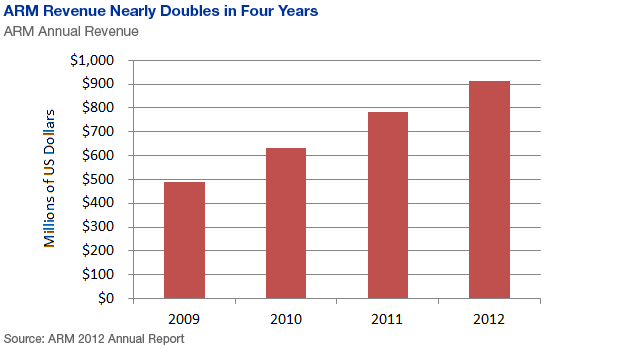 ARM was perfectly positioned to capture the mobility wave, and it has consistently executed its original business strategy: to license designs to other companies rather than get into the expensive business of making semiconductors, and then enable and support those partners with a strong ecosystem. ARM's ecosystem has been a key to its success, said Seth. "It's one thing to have great technology; it's another thing entirely to have technology that's easily consumable. ARM's ecosystem helps make that possible."
Consistency and humility are hallmarks of the company, said Seth. The executives at ARM are "not flashy," he added. "The same bunch of very humble, quietly confident guys" have run ARM for the last decade. (Warren East, CEO since 2001 and with the company since 1994, has announced his retirement. He will be replaced July 1 by current president Simon Segars, pictured above, who joined ARM in 1991.) And while the public and capital markets have noticed ARM only recently, "the company has been executing slowly and steadily for a long time," Seth noted.
A Way In Opens for the Server Market
Now in an interesting twist, ARM's success in mobile has created an opening for the company in the server market. "The explosion in mobile technology drives an explosion in data, which then drives an explosion in storage and processing capacity – the infrastructure that supports mobile," Seth explains. That, in turn, has led to an explosion in power use by these data centers. Could low-power ARM-based servers be the solution?
For years, data centers have been stacked with nothing but X86-based servers, but that has started to change. As cloud computing and social media have exploded, web giants that store and process information in the cloud - think Google, Facebook and Amazon - have built more data centers and crammed them full of more and more servers. As a consequence, the server market is expected to grow steadily for at least the next few years, according to IHS. (See the chart below.)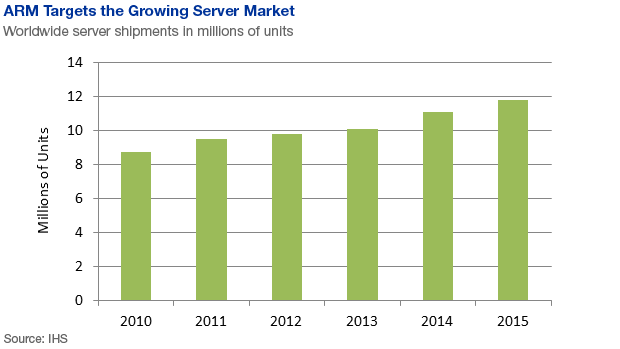 In the U.S., data centers used about 76 billion kilowatt-hours in 2010, or roughly 2 percent of all electricity used in the country that year, according to a Stanford University research study. And data-center power consumption continues to accelerate – it rose 63 percent last year, according to data presented at ARM's analyst day in May. "That tells you how fast they are adding servers," said Lakshmi Mandyam, director of server systems and ecosystems at ARM.
These companies haven't waited around for Intel or original equipment manufacturers (OEMs) to solve the problem. Increasingly firms like Facebook and Google are designing their own custom servers and hiring original design manufacturers (ODMs) to build them. That threatens to leave traditional server OEMs out of the market.
"Some of these data-center guys are saying, 'why do I need to include a middleman if I can go direct to an ODM?' There's a whole new business model that's emerging from this huge data center build-out," said Craig Stice, senior principal analyst, compute platforms at IHS. "The opportunity for new players to get into that market is tremendous."
In 2011, after designing its own infrastructure in its Prineville, OR, data center, Facebook launched the Open Compute Project. The project is developing infrastructure equipment based on open-source software and hardware. The goal is to develop standard modular designs that can be customized for specific workloads.
No one knows exactly how big this segment of the server market is, but most agree that it's big and growing fast, according to Stice. "There are estimates out there that the cloud environment is 20 percent of the server market today, but that's nebulous because it's a challenge to get the actual numbers of servers that these data centers are procuring," he said. If it is 20 percent, that would be 2 million servers, based on IHS estimates of server shipments.
Despite the potential, ARM has yet to make much of a dent in the market, say analysts. Calxeda, a chip startup backed by $103 million from ARM and several venture capital firms, introduced a server chip based on a 32-bit ARM core, called EnergyCore, in November 2011.The product is a complete server on a chip, combining the ARM core and other IP blocks – both from third parties as well as Calxeda, said Gina Longoria, product marketing manager at Calxeda. The chip consumes as little as 1.5 watts, according to the company. Although several OEMs – including Hewlett-Packard and Dell - have designed servers based on the chip, adoption has been slow, say analysts.
But Longoria maintains that there are useful applications for 32-bit ARM-based servers, particularly in two areas – web hosting and storage, which don't require high-performance processing but demand power efficiency. At Computex in Taipei in June, for instance, Calxeda demonstrated the results of development activity with contract manufacturer Foxconn to build storage-optimized servers.
ARM's 64-bit Entrance
But critics insist real servers use 64-bit processors, which ARM lacked until last fall, when it introduced the A50 64-bit family. "A lot of companies that have been targeting integrated circuit (IC) design for servers have been waiting for the 64-bit architecture from ARM," said Tom Hackenberg, principal analyst, embedded processors and automotive semiconductors, IHS Electronics and Media.
According to ARM, at least 15 companies have licensed the 64-bit design, including Advanced Micro Devices, Calxeda, Samsung, LG Electronics, Nvidia and Applied Micro.
Meanwhile, the dominance of the Intel X86 architecture is no small barrier to ARM, especially in the enterprise market. "You can't just come in and exchange an X86-based system for an ARM-core based system," said Stice of IHS. "A lot of software code is just not compatible."
That's precisely why ARM is focusing on the data center market, where Linux and open-source software have gained ground. These data centers often use open source and own their software stacks, so there is no X86 legacy. "Open source has been a game-changer," said Mandyam of ARM. "It's presenting a real disruption in terms of equipment choices for infrastructure."
ARM is trying to take advantage of the willingness of data centers to embrace new approaches by building a hardware and software ecosystem specifically for the server market. And ARM does ecosystems particularly well, said Seth. "Today you hear everyone talk about ecosystems," he said. "But ARM was talking about building an ecosystem to help them leverage their technology decades ago."
In particular, ARM is trying to seed the software market. In 2010, the company launched Linaro, a non-profit organization that is working to develop open-source software for the ARM architecture. Last fall, Linaro announced the formation of the Linaro Enterprise Group to accelerate Linux development on ARM servers. Members include AMD, Applied Micro, Calxeda, Facebook, HP, Marvell, HiSilicon, Samsung and Red Hat. Also last fall, ARM, Red Hat and Applied Micro announced they were collaborating to develop a 64-bit server design based on the ARM architecture.
The Ultimate Test
The reception of 64-bit ARM-based servers, expected to start shipping in 2014, will be the real test for ARM. And the X86 camp, of course, isn't standing still. Intel recently scored a coup when its low-power Atom chip was used in the first server introduced by Hewlett-Packard's Project Moonshot, for example. Project Moonshot is similar to the Open Compute Project in that it is developing low-power, low-cost servers that can be customized for particular applications.
Although HP's first product uses Atom, future versions will be customizable to use any of several different processors, including those from AMD, Applied Micro and Calxeda. Data centers can pick whatever processor they need. Intel's Atom cartridge is particularly suited for dedicated hosting and Web front-end applications, said Ed Turkel, group manager, hyperscale portfolio marketing at HP.
"If [Intel] can get the power more competitive with the latest ARM SoC, then ARM becomes less attractive," said Hackenberg. "They can leverage the benefits of the X86 ecosystem dominance to say, 'you're not going to save much power by going to ARM, so stick with us and it'll be as easy as it's always been.'"
But Mandyam insists that ARM's approach has more advantages than just lower power consumption – namely, an opportunity for more integration (thus saving space), more vendor choice (or even building it yourself) and the ability to customize servers for specific workloads. "These data-center folks think in terms of performance per watt per dollar per cubic foot of space," she explained. With open hardware and open-source software, ARM's approach can offer a lower total cost of ownership.
But even if a raft of 64-bit ARM-based servers hits the market next year, it will take time for the big data centers to benchmark and evaluate the machines. Because of that, IHS predicts that ARM ecosystem penetration of the server processor market will only be around 5 percent by 2017, said Hackenberg.
"These companies are not going to go convert 100,000 computers from X86 to ARM overnight," said Hackenberg. Rather, they are likely to first convert a small percentage of their servers to benchmark how they perform.
"Maybe we'll hit an inflection point, for example, when somebody publishes some surprising data showing data centers improved their operating costs by 75 percent and had zero compatibility problems," he said. Until then, "it's likely to be a slow struggle."
SIDEBAR
ARMing the world
ARM's strategy is aimed not just at mobile and not just at servers. If the U.K.-based company has its way, it will conquer the entire world of data processing.
ARM is moving both up into servers and down into embedded processors, noted Raj Seth, a former equity analyst who has covered ARM for 15 years. In fact, shipments of ARM-based processors in non-mobile devices grew 25 percent last year, winning designs in digital TVs, microcontrollers and wireless networking chips, according to the company's annual report. Eight of the 10 top semiconductor companies are using ARM to develop microcontrollers. (See the chart below for the market segments ARM serves.)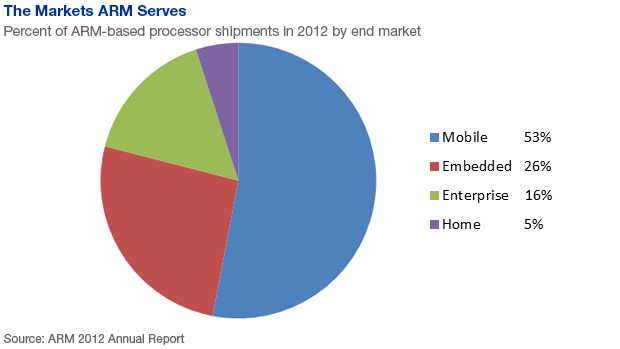 At the company's analyst day in May, ARM president and CEO-designate Simon Segars noted that something as mundane as electric motors could be a promising market for ARM-based microcontrollers. "Electric motors account for about 45 percent of worldwide energy consumption," he said. Designing ARM-based controllers into these machines could reduce power use by 30 percent.
Laurence Bryant, ARM's director of mobile segment marketing, pointed out that microcontrollers and connectivity are being designed into a wide range of equipment to create the "Internet of Things," predicting an installed base of some 12 billion Internet-embedded devices by 2020.
In addition, companies that have designed ARM-based processors into products for one market are looking to leverage their experience in other markets, creating a "halo effect" for ARM, said Lakshmi Mandyam, director of server systems and ecosystems at ARM. For example, Taiwanese ODM Aaeon - which has developed ARM-based mobile products for the consumer market - recently announced it was also developing boards for mobile infrastructure base stations, she said. "They see the pervasiveness of the ARM architecture being a benefit to them, because their investment can be spread across multiple market segments."