New local interconnect network (LIN) brushless DC (BLDC)-motor pre-drivers from Melexis combine small size with high performance and power capability for automotive mechatronic applications.
The MLX81340 (32 KB Flash) and MLX81344 (64 KB Flash) integrate three channels of high-side and low-side drivers. They control external n-type field effect transistors (FETs) with up to 60 nC capacitance to handle applications up to 500 W. The motor drivers integrate the LIN communication interface, high-side and low-side drivers and protection mechanisms for external power FETs. The MLX81340 and MLX81344 are available in pin-compatible 4 mm x 4 mm QFN24 and 5 mm x 5 mm QFN32 packages that enable extremely small-size PCBs.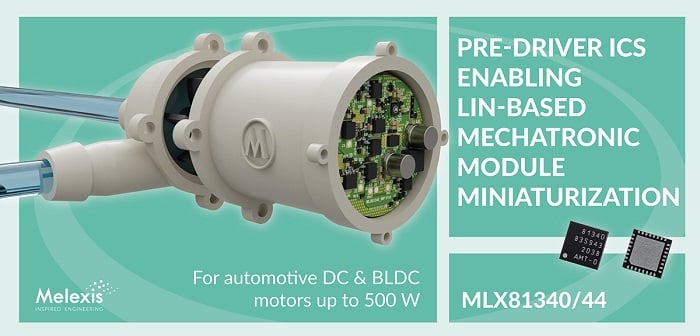 Source: Melexis
Both leverage Melexis' high-voltage silicon on insulator technology and integrate analog and digital circuitry with a driver stage that contains high-side and low-side drivers, a charge pump, voltage monitoring to protect the external FETs, and current sensing. Including the LIN controller and physical layer, pulse width modulation generator, diagnostics and watchdog, the integrated circuits permit smooth and silent field-oriented control for BLDC motors. The MLX81340 and MLX81344 have been developed as ASIL-B SEooC (Safety Element out of Context) in accordance with ISO26262. It enables the right safety diagnostics and safe operation for demanding applications.