John O'Kelly has worked in manufacturing for 30 years. During his career, he saw a lot of mismanaged time on manufacturing shop and warehouse floors. Workers were doing entirely too much waiting and walking, even in the best operations. O'Kelly was inspired to create a mobile workstation for manufacturing businesses to improve productivity.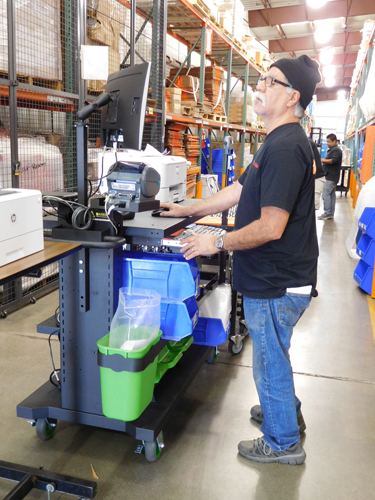 Newcastle Systems customer Direct Relief uses a mobile powered workstation in its Santa Barbara, Calif., warehouse. (Source: Newcastle Systems)
O'Kelly's idea came to life in 2005 while he was taking a Harvard Extension School class. His professor tasked the students to come up with a new business or product. O'Kelly took this opportunity to bring his mobile workstation to life.
Newcastle Systems was launched in March 2005 in O'Kelly's garage. The company's focus was to produce mobile powered workstations for the manufacturing industry. While wireless technology was not yet quite developed enough for a mobile workstation, O'Kelly had hope that the tech would one day catch up to his idea. Until then, he wanted to work on creating the most streamlined mobile workstation possible. Once wireless technology became more mainstream, he was able to develop a completely mobile workstation.
Typical stationary desks on a shop floor are four to six feet wide. The Newcastle workstations are two feet wide, built on wheels and made with sheet metal to withstand industrial environments. The workstation has industrial-strength lithium battery packs as a power source, so workers can use vital electronic equipment on the go. The battery packs can run for a full eight hours. The workstations come with a charging dock and customer-requested battery swapping capabilities. After using an early version of the workstations, customers said that a single battery design would only work if workers always remember to charge their workstation at the end of their shift. If they forget to charge the station, they must wait for the batteries to charge before they can start their work the next day.
One of the biggest challenges Newcastle Systems faces is in getting manufacturing companies on board with the mobile workstations. Many companies don't even know they have a time-wasting problem on their hands. The industry standard is to have immobile stations, so these stations aren't seen as a problem. To solve this problem, Newcastle Systems created an app to show companies how a mobile station would improve their productivity. The app, MotionMeter, calculates how much money and time is being wasted by using immobile workstations. According to the app, wasted time can cost $4.2 billion every year and one worker can waste 277 hours a year by walking around. The goal of the app is to bring awareness to how much time is wasted with stationary workstations.
Newcastle Systems currently offers seven classes of work stations: entry-level EC, midrange NB, heavy-duty PC and testing stations, dimensioning stations and order picking stations.