Mobile phones and other personal electronics can be rendered bendable as well as biodegradable with a new semiconductor material formulated at Australian National University. High performance is promised by the combination of organic and inorganic materials in a hybrid structure that converts electricity into light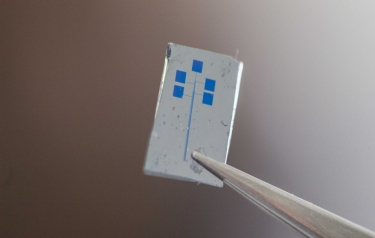 A hybrid semiconductor material is thin and flexible enough to make devices such as mobile phones bendable and biodegradable. Source: Australian National Universityefficiently.
The organic component is just one atom thick and is composed of carbon and hydrogen, imparting the capacity for biodegradation or increased recycling. This semiconductor component ingredient was synthesized by chemical vapor deposition. The inorganic molybdenum diselenide component has the thickness of two atoms.
In analyzing opto-electronic and electrical properties, the researchers demonstrated that the performance of the hybrid semiconductor would be much more efficient than conventional semiconductors assembled with inorganic materials such as silicon.