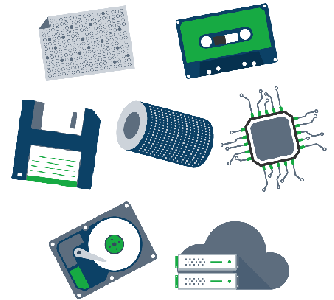 Click the graphic above for an interactive timeline of data storage devices. Source: Frontier Communications Corp.Frontier Communications put together this cool interactive timeline of the history of data storage, representing the 14 most important devices.
The chart begins with the 80-character mechanical storage method of punch cards, which dates back to the late 19th century and was used to program devices such as looms and player pianos. It also includes the first fully-electronic data storage form, Williams-Kilburn Tube; invented in 1947, it stored data by sending a static charge through a cathode ray tube but is largely forgotten today. Magnetic technology also makes a showing, from the magnetic drum (1932) to the magnetic tape drive (1951), both of which are still used today; and the magnetic core (1951) first used in the MIT Whirlwind computer. The chart also includes the hard disk drive (1956), the floppy disk (1967), the compact disc (1982), the digital video disk (1995) and the Blu-ray optical disc (2003) before pointing to the unlimited capacity of the cloud.
Before you click on the graphic to see the whole chart, take a guess: Approximately how much data exists in the digital universe today? And approximately how much new data do we generate on a daily basis? The answers may surprise you...