Wearable devices are becoming the latest and greatest in trendy and cool gadgets for people to own. Wearables are also a huge help in the medical field to help patients and doctors monitor their health and any issues they may have. But wearables still haven't been perfected. They can sometimes be inaccurate and expensive, especially if they are being used in the medical field.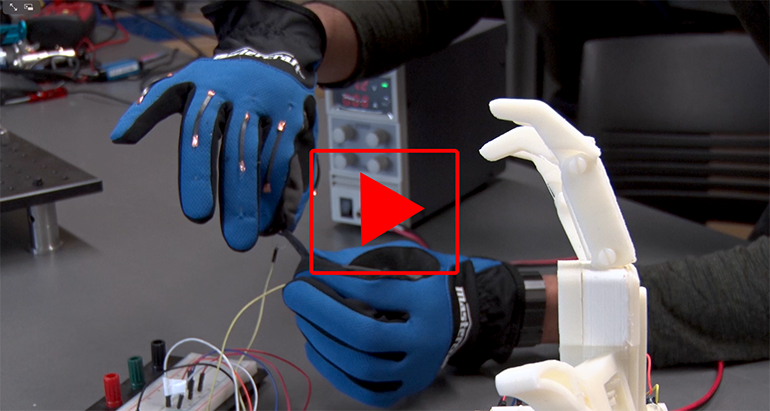 The glove used to test the new, stretchable sensor from UBC researchers (Source: UBC Okanagan)
Researchers from UBC's Okanagan campus have developed a relatively inexpensive wearable device that can monitor muscle movement, heart rate and other bio-signals. This could be the key to developing even more wearable devices.
Originally the team wanted to develop an ultra-stretchable sensor. But as the team conducted its research, they ended up creating a smart, wearable device that can sense and understand human motion. This new sensor is made out of infused graphene nano-flakes (GNF). The GNFs create a rubber-like adhesive pad that acts like a stretchable sensor while gathering information about a human body.
"We tested this sensor vigorously," says School of Engineering Professor Homayoun Najjaran. "Not only did it maintain its form but more importantly it retained its sensory functionality. We have further demonstrated the efficacy of GNF-Pad as a haptic technology in real-time applications by precisely replicating the human finger gestures using a three-joint robotic finger."
The pad was able to maintain accuracy in reading under strains that were up to 350 percent of its state. The team put the pad through over 10,000 cycles of stretching and relaxing. Through all these cycles, the pad was stable.
The team set out to make a sensor that was able to stretch, be flexible, have a relatively small size, accurate sensitivity, performance, robustness, all while maintaining low production cost. Narjjaran says sensors have to be sensitive enough to respond to all kinds of human body motions. With the development of this new sensor, they may be one step closer to this goal. The new sensor pad is potentially the key to creating next level health monitoring and biomedical devices.
Three wearable devices were built to prove that the sensor works for wearables: a knee pad, a wristband and a glove. The wristband monitored heartbeats, and the glove and knee pad monitored finger gestures and large scale muscle movements during exercise and everyday movements. The sensor worked great with the devices, proving their potential for use in many wearables.
The paper on this new sensor was published in the Journal of Sensors and Actuators A: Physical.