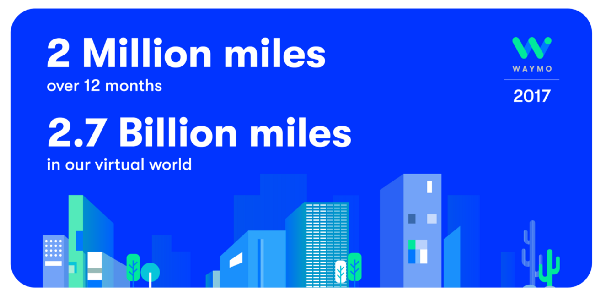 Google's autonomous vehicle division, Waymo, has released the statistics on its testing program during the 2017 year revealing its disengagement rate — when a test driver takes manual control of a vehicle while it is in autonomous mode — dropped to 0.18 per thousand miles, down from 0.20 in 2016.
California's Department of Motor Vehicles says Waymo leads all other autonomous vehicle companies in disengagement rates in the state with 63 times a driver had to take the wheel in 2017 during the testing of 352,544 miles. Second place among companies was Cruise, the self-driving division inside GM.
Waymo plans to launch its self-driving ride-hailing service this year and the company says it is accelerating its testing as it gears up for the release of the service. Just this week, the self-driving car company announced it was purchasing thousands of minivans from Chrysler in anticipation of this roll out of the ride hailing service.
In total for 2017, Waymo logged nearly 2-million miles over a 12-month period and the company says it has self-driven more than 4-million miles across 25 U.S. cities. Also during the year, the company was able to log more than 2.7-billion miles in a virtual environment.
In 2017, Waymo equipped a new suite of sensors, including LiDAR, radar and vision systems. Waymo says it grew its database to more than 20,000 scenarios tested on a private test track, evaluating the core driving skills and its ability to avoid common pre-crash scenarios.
Waymo also used machine learning to better recognize and respond to emergency vehicles and master driving challenges such as unprotected left turns.