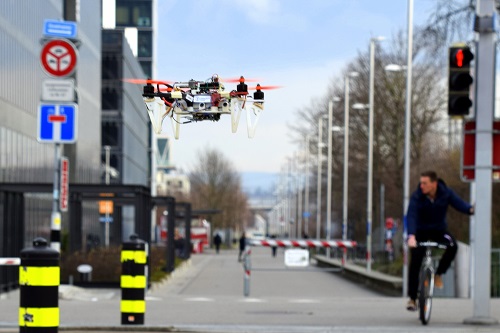 Using training examples from data collected from cars and bikes, drones can navigate streets and indoors. Source: UZHResearchers at the University of Zurich (UZH) have created an algorithm that allows flying drones to zoom through streets and indoor environments without any mapping or pre-existing navigation.
Most commercial drones use GPS to navigate which works if the devices are flying above buildings or at high altitudes. However, when having to navigate autonomously at low altitudes or in dense urban environments with cars, cyclists and pedestrians, the drones are not able to react quickly to unforeseen events.
The algorithm developed by UZH, called DroNet, had to learn traffic rules and adapt training examples from cyclists and car drivers in order to allow drones to safely fly through streets of a city or inside buildings. The algorithm is an eight-layer residual network that produces two outputs for each single input image such as a steering angle for avoiding obstacles and a collision probability to let the drone identify dangerous situations and react to them.
"DroNet recognizes static and dynamic obstacles and can slow down to avoid crashing into them," says Davide Scaramuzza, professor of robotics and perception at UZH. "With this algorithm we have taken a step forward towards integrating autonomously navigating drones into our everyday life."
How It Works
Instead of sensors, the drone uses a normal camera and an artificial intelligence algorithm to interpret the scene it sees and react to that scene. DroNet learns to solve complex tasks from a set of training examples to show how the drone could do certain things and how it can cope with different situations.
These training examples were garnered through the UZH team collecting data from cars and bicycles driving in urban environments. The drone then imitates these vehicles, automatically learning and respecting the safety rules for interacting with pedestrians or how to follow a street without crossing into an oncoming lane.
Using this AI, researchers were able to navigate a drone autonomously through an indoor environment such as an office corridor and parking lot.
UZH says this is the first step toward the potential of monitoring and surveillance or parcel delivery in cluttered city streets autonomously as well as rescue operations in urban areas.
However, researchers warn that "Many technological issues must still be overcome before the most ambitious applications can become reality," says Ph.D student Antonio Loquercio.