Autonomous vehicles, once considered a staple only of science fiction, are here, although not yet perfect. Engineers are steadily working on the technology so that in the very near future, autonomous driving will be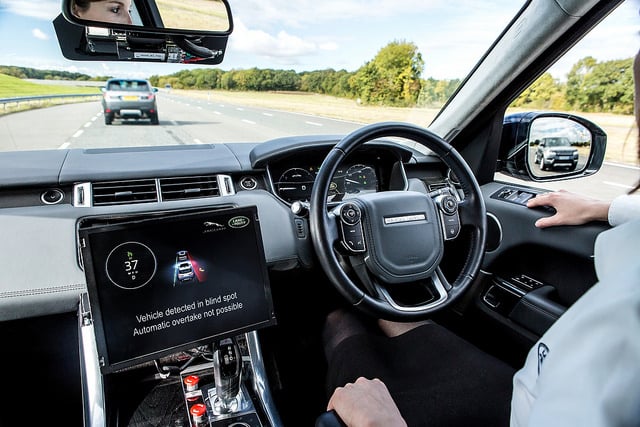 Systems within autonomous automobiles can have a significant impact on safety. Source: Jaguar MENA/CC BY 2.0 easy, safer and ubiquitous. Gartner forecasts that 250 million connected vehicles will hit the road worldwide in just two short years. And the World Economic Forum predicts that autonomous driving features will help prevent nine percent of accidents by 2025, potentially saving 900,000 lives during the next 10 years. Farther down the road, by 2040, autonomous vehicles may well account for 25 percent of the global auto market. How we get from here to there, however, requires just a bit of engineering expertise.
MIT's engineers are working on vehicle-to-vehicle (V2V) algorithms that use various pieces of information from cars to determine the best evasive measures possible if vehicles started veering into one another. V2V has incredible potential to reduce automobile accidents, because the vehicles "talk" to each other, getting feedback that helps them avoid collisions. Future autonomous vehicles will include onboard systems that support machine-to-machine communications, allowing them to learn from other vehicles on the road to make adjustments that account for weather changes and shifting road conditions such as detours and in-path debris.
But V2V communication is only one piece of the puzzle. Vehicle-to-infrastructure communication, or V2I, is being tested as well. V2I would set the stage for vehicles to communicate with road signs or traffic signals, for example, and provide information to the vehicle about safety issues. V2I could also request traffic information from a traffic management system and access the most efficient possible routes. Reports by the NHTSA say that incorporating V2I into vehicles, along with V2V systems, would reduce all target vehicle crashes by 81 percent.
Individuals will use self-driving cars on demand much like any other utility service. Mobility as a Service (MaaS) will become increasingly popular, providing services such as carpooling, which will take on a whole new meaning as automobiles will be programmed to pick up and drop off from any number of locations. The technology also could easily deliver products as varied as pizza to playground equipment. An Intel/Strategy Analytics report estimates that business use of MaaS could generate $3 trillion in revenue by 2040.
Autonomous driving will change lives and societies. Fewer accidents, greater mobility and more efficient traffic flow will result, but only if the technology is flexible, easy to use and practical.