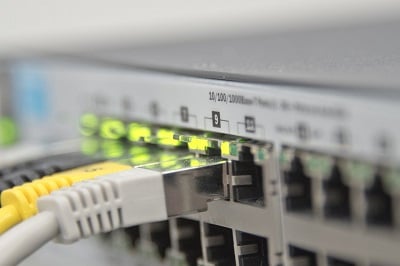 Evolution is a good thing until it isn't. That's the motto of a late night IT staff working diligently to address abysmal network performance after a key hardware upgrade. The rapid development of Ethernet has left a trail of obsolete components in dire need of upgrades, and installing the latest plug-and-play Ethernet switch can cause headaches and expose compatibility issues rarely mentioned in an owner's manual.
Increased Ethernet Ratings
The IEEE 802.3 working group develops standards that define the physical layer and data link layer's media access control (MAC) of wired Ethernet. The technology is prevalent in local-area networks (LAN) in use today, accounting for approximately 85 percent of the world's LAN-connected PCs and workstations.
The technology was first standardized by IEEE in 1983 when the first edition of the 802.3 standard was released. With the rapid development of Ethernet, a plethora of hardware technologies were introduced that complicated the definition of the physical layer (PHY) of the Open Systems Interconnection model.
The PHY layer not only specifies the medium, but the interface, modulation, line coding, bit synchronization/bit rate, transmission mode and even advanced features like auto-negotiations. Component naming convention corresponds to the speed of the network in megabits per second, the signaling method and physical media type. For example, 1000Base-T operates up to 1 Gb/s with baseband signaling over twisted pair copper cabling. This naming convention does not, however, address the full complexity of the PHY.
Compatibility Issues
Today most LAN networks incorporate network switches in place of repeaters or hubs. The network interface card (NIC) for each and every workstation or laptop directly interfaces with a network switch. Inside the LAN almost all ports transmit in baseband, meaning the signal is not modulated and is transmitted over an unfiltered medium occupying the entire bandwidth. These transmissions are, however, half- or full-duplex, meaning they either can or cannot send and receive data at the same time.
The move toward full-duplex Ethernet was accompanied when networks migrated towards point-to-point connections alleviate concerns with collisions and packet loss. It also does not use the traditional Carrier Sense Multiple Access with Collision Detection (CSMA/CD) media access control method of traditional Ethernet.
Most Ethernet adapters and switch ports are required to support multiple speeds, using a feature referred to as auto-negotiation to set the best speed and duplex setting supported by each connected device. Compatibility issues associated with this feature are due to duplex mismatches which can lead to significant packet loss or frequent attempts for a device to renegotiate settings bringing down your connection.
Hard-pressed Hardware Engineers
Hardware engineers interpretation of standards for twisted-pair media have in some cases further complicated interoperability between mismatched Ethernet ports due to associated proprietary extensions. In next-generation Ethernet ports, gigabit Ethernet and above, these interoperability issues are for the most part non-existent as lesson have been learned from proprietary extensions and signaling methods are exclusively full-duplex.
Hardware engineers are still left with a tough pill to swallow after a slew of components operating at 100 Mb/s fail to achieve operational efficiency. It is typically not economical to completely renovate all hardware, and chances are that backward compatible Ethernet ports will still pose challenges while hardware engineers are simultaneously tasked to understand the newly developed PHY needed to support next-generation Ethernet — including 25 Gb/s, 40 Gb/s, 100 Gb/s and above.
Resources:
Industrial Ethernet: A Control Engineer's Guide