Alibaba Group's logistics arm Cainiao launched operations for a new smart warehouse in Huiyang, Guangdong, home to the most robots in China.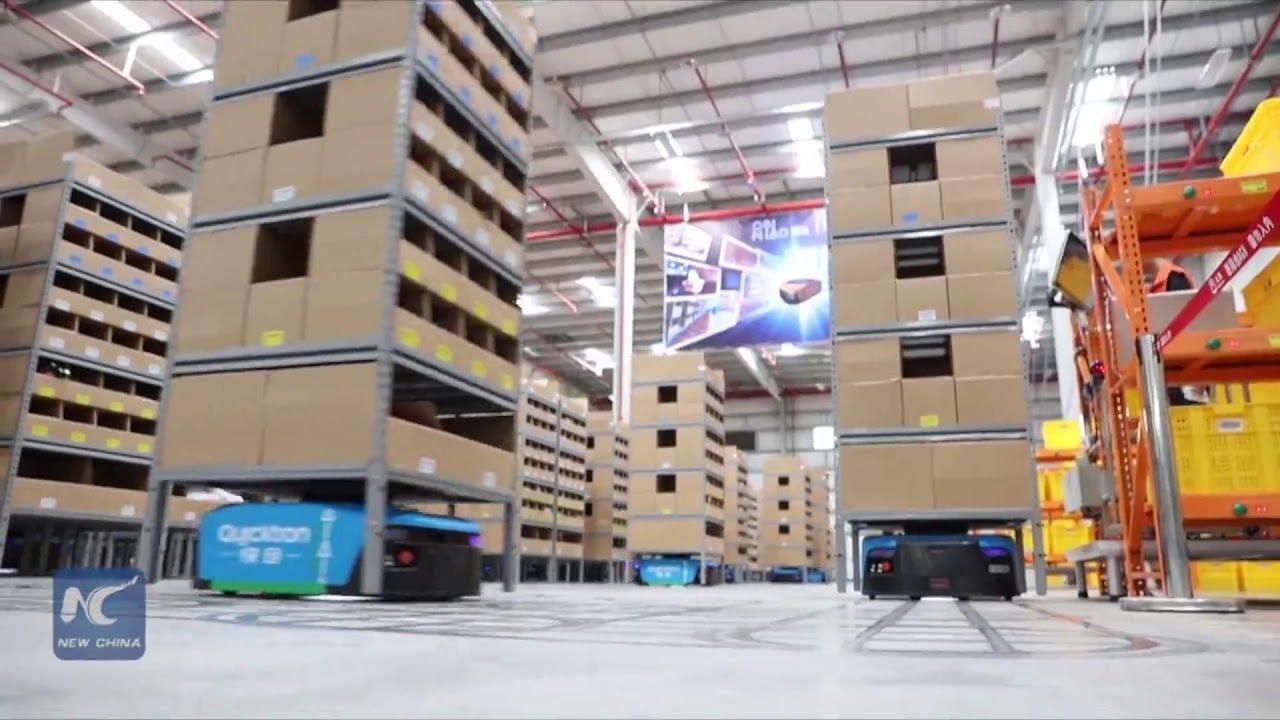 The robots working in a warehouse. Source: New China TV
An average smart warehouse usually contains only a few dozen mobile robots, also known as AGVs or automatic guided vehicles. But this new smart warehouse has over a hundred mobile robots.
Cainiao offers same-day and next-day delivery services in more than 1,000 regions in China.
The Wi-Fi-equipped, self-charging machines are responsible for moving goods around the warehouse. The robot is activated when a shopper places an order on Alibaba's B2C shopping site, Tmall, and the robot sends the shelf containing the order to a warehouse clerk. The warehouse clerk will sort through the parcels and then ship the designated order to the customer.
These robots are slightly larger than an ordinary robot vacuum cleaners and can travel 1.5 meters per second and carry up to 660 kilograms at a time.
Work efficiency for manual workers has improved threefold since the new warehouse started operations in July.
For a traditional warehouse, a clerk would sort through 1,500 products during a 7.5-hour shift and take 27,924 steps per day to walk around the warehouse. The warehouse covers approximately 3,000 square meters, which is the equivalent of 0.7 acres. With the help of the mobile robots, the clerk could sift through 3,000 products in the same shift and only take 2,563 steps a day.
Each machine has sensors that prevent them from bumping into one another.
The robots can also lift and rotate shelves. This makes it easier for manual workers to retrieve parcels. Being able to store parcels on all four sides helps make efficient use of available storage space.
When the robot's battery is running out, the robot can automatically find its way to a socket and recharge itself. When it is fully charged, it will be able to work for eight hours straight.
According to eMarketer, e-commerce sales in China will reach 1.132 trillion in 2017, about half of all global online retail. Improving work efficiency is seen as a promising growth driver for logistics companies and retailers.