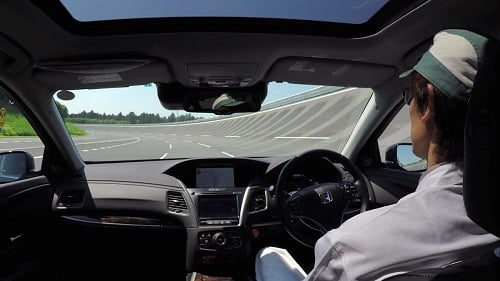 Honda test drove a vehicle on a mock freeway with LiDAR, radar and cameras. (Source: Honda) Japanese automotive original equipment manufacturer (OEM) Honda has rolled out new plans for self-driving cars targeting a date of 2025 for vehicles with SAE Level 4 autonomous capabilities.
This new plan by Honda builds on the previously announced plan to have Level 3 automated freeway driving capability in Honda and Acura vehicles by 2020.
"We will strive to achieve the technological establishment of Level 4 automated driving for personal car use by around 2025," says Takahiro Hachigo, president and CEO of Honda Motors. "We are striving to provide our customers with a sense of confidence and trust by offering automated driving that will keep vehicles away from any dangerous situation and that will not make people around the vehicle feel unsafe."
During the announcement of its new plans for autonomous driving, Honda showed off some of its technology on a closed test course that rivaled a multi-lane freeway. The test vehicle uses an advanced sensor package, including multiple cameras as well as five light detection and ranging (LiDAR) and five radar sensors. Another test involved an urban driving experience using Honda's artificial intelligence with deep learning. Equipped with camera sensors only and no LiDAR or GPS, the Honda artificial intelligence can sense and respond to driving environments and situations such as roads without proper lane markings. It can also detect pedestrians and bicyclists at night with only partial visibility.
The SAE defines six levels of capability for autonomous driving from zero to five. Level 4 is high automation, meaning a vehicle can handle all driving tasks in most driving situations with possible exceptions being bad weather conditions or unusual driving environments where the driver must resume control.