Demand for voltage converters is on the rise, due to their use in consumer electronics and new e-mobility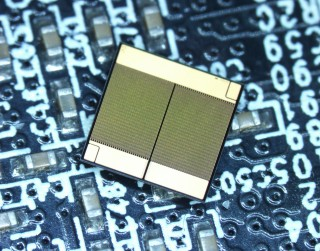 The monolithically integrated half-bridge circuit. (© Photo Fraunhofer IAF)applications. In response to this demand and to enable development of extremely small, powerful systems, Fraunhofer Institute for Applied Solid State Physics IAF , Germany, designed and demonstrated the the world's first monolithically integrated gallium nitride half-bridge circuit for the important 600 V class.
Monolithic integration combines several components on a single GaN chip, resulting in compact, half-bridge circuits with improved electronic properties. Switching frequency can be increased by a factor of around 10 in comparison with conventional voltage converters. When used to produce electronic components for electric vehicles, GaN enables higher power densities to be achieved more energy efficiently.
Fraunhofer IAF's half-bridge circuit comprises two GaN high electron mobility transistors (HEMT) and two integrated freewheeling diodes. The HEMTs have a breakdown voltage of more than 600 V and an on-state resistance of 120 mΩ.
A folded chip layout enables the DC link capacitance to be tightly connected between the supply voltage and ground. This design creates an optimized power path and allows for clean, stable switching at high frequencies. The operation of this circuit was demonstrated in a down converter from 400 to 200 V at a switching frequency of 3 MHz.
Even more complex circuits, such as a monolithically integrated multilevel inverter, have already been produced using this GaN-on-Si technology. In this topology, 10 GaN power devices are placed on one chip with an area of 2 x 3 mm2. Each switch has a breakdown voltage of 400 V in off state and a resistance of 350 mΩ in on state.
Compared with conventional converters, multilevel inverters generate less noise during DC/AC conversion, leading to the use of smaller output filters. The technology therefore not only reduces costs, but also makes voltage converters more compact and lightweight. This converter was demonstrated in inverters operating at the grid voltage level of 120 V used in the U.S.