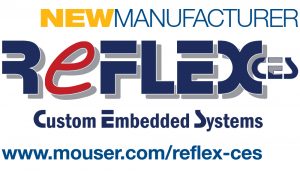 ReFLEX-Mouser Agreement. Image credit: ReFLEX
Mouser Electronics has recently announced a global distribution agreement with ReFLEX CES. Mouser will now stock Attila, Alaric and Achilles Arria® Instant Development Kits (IDKs). ReFLEX CDS IDKs are complete out-of-the-box compact hardware platforms with an efficient and intuitive software environment.
The Arria 10 IDKs are high-performance kits that provide all of the hardware, software design tools and pre-verified test designs necessary to develop solutions.
The ReFLEX CES Atilla IDK is designed for high-performance serial transceiver applications. It comes equipped with an advanced memory with DDR4 SODIMM memory up to 16 GBytes, extension inputs, and outputs (IOs), an onboard programmable PLL oscillator and an eight-lane PCIe. Network communications are developed using an RJ45 copper connector with 10/100/1000 Base-T Ethernet.
The Alaric IDK integrates a dual-core ARM® Cortex®-A9 processor subsystem into a user-customizable FPGA that leveraged a high-bandwidth interconnect. It is designed for high-performance serial transceiver applications. The Alaric IDK comes with an advanced memory interface with DDR3 onboard memory up to 4 GBytes, a display output port for video and an eight-lane PCIe.
The Achilles IDK features a dual-core ARM Cortex-A9 MPCore, as well as up to 660,000 advanced low-power FPGA logic elements, combining the flexibility and ease of programming at CPU with the configurability and parallel processing power of an FPGA. The kit is comprised of the Arria 10 SoC system-on-module (SoM) plus a starter board for quick prototyping and application testing. This IDK offers signal integrity and provides support for multi-Gigabit serial protocols, including PCIe Gen3 and 10G Ethernet. Target applications for the ReFLEX CES IDKs include video capture, processing devices, industrial products, test and measurement equipment and medical devices.
To learn more, visit Mouser Electronics.