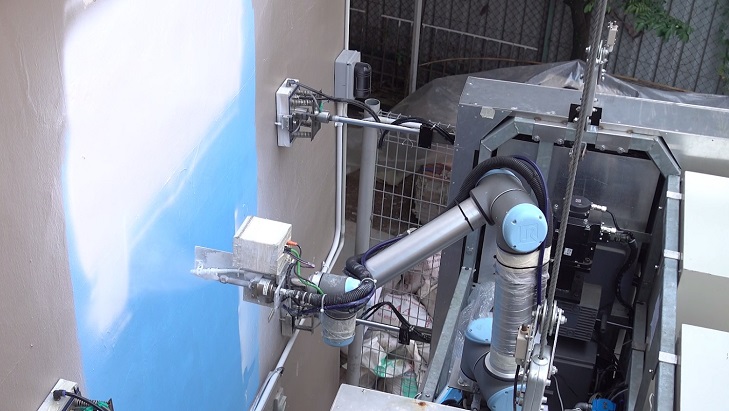 High-rise office buildings in Singapore will soon be getting an exterior spruce-up not by crews of workers but by robots.
An innovative robotic system that can clean or paint building exteriors using jets of water or paint has been developed by automated controls and systems maker ELID Technology International and Nanyang Technological University (NTU) of Singapore.
The patent-pending automation dubbed the OutoBot has been put through its paces at an industrial building in the eastern part of Singapore and is ready to be put to work enhancing building maintenance productivity and improving workplace safety.
How it Works
OutoBot consists of a robotic arm with six-degrees of freedom mounted on a specially designed automated gondola that weighs less than 500 kgs, or around 1,100 lbs.
Powered by a conventional power outlet, the robot scans the exterior surface of a building using a specially mounted camera and automatically plots the areas to spray paint or clean while avoiding the windows. It also gives a more consistent coat of paint as compared to manual methods, its developers said.
The system can speed up both the cleaning and painting process by about 30 percent since it doesn't take a break, and it also reduces waste by saving up to 20 percent of paint versus the manual roller process. Multiple OutoBots can be deployed on the same building for additional time savings.
But the biggest benefit of all, no doubt, is worker safety.
Typically, five workers are needed to perform façade washing or painting manually, with three of them perched precariously on a gondola high above street level. OutoBot, however, requires only two workers, one operator on the ground and one safety officer.
Indeed, the human element was the driving force behind the robot's creation, which came after Singapore's Housing & Development Board (HDB) issued an RFP to automate the exterior painting of HDB building façades to enhance worker safety and increase productivity.
ELID Managing Director, Dennis Lim, who first came up with the idea of the robotic system, said it tackles productivity issues for painting buildings in line with Singapore's Smart Nation vision.
"With Singapore's rapidly aging workforce, we need to find ways to enable our employees to continue contributing despite their advanced years," Lim said. "Using our new robot, we have shown that a labor-intensive job can be transformed into one that can be easily done by an older worker, and at the same time eliminate the risk of employees having to work at heights."
Said Chen I-Ming, director of NTU's Robotic Research Centre who jointly led OutoBot's development, "Our aim is to make the cleaning and painting of high-rise buildings easier, safer and more cost-effective. By using spray painting over conventional roller painting, our robot is also more precise and efficient, minimizing waste and saving paint."
NTU's research focus on robotics is enabling industry to "do more with less manpower," he said.