Intel Corp. is expanding its semiconductor manufacturing plans in the U.S. by investing $7 billion to complete its Fab 42 manufacturing facility based in Chandler, Ariz.
The fab will be used to produce microprocessors for data centers, as well as connected and smart devices for the Internet of Things (IoT). Intel CEO Brian Krzanich made the announcement at the White House with U.S. President Donald Trump.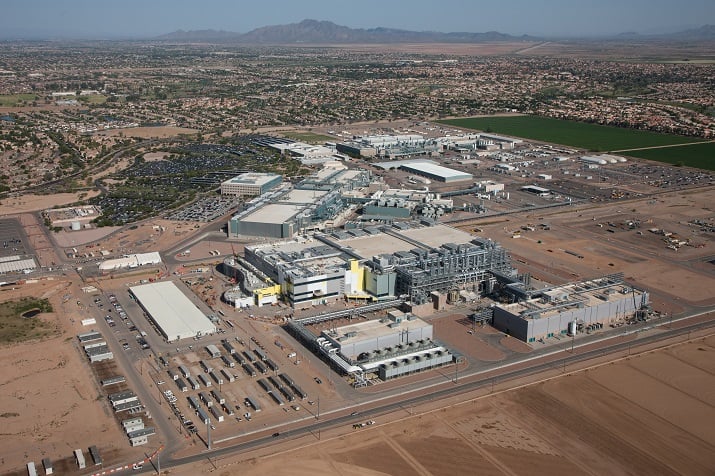 Intel plans to invest more than $7 billion to complete its Fab 42 manufacturing facility in Chandler, Ariz. Source: Intel When Fab 42 is completed, in an estimated three to four years, the facility will create about 3,000 new high-tech jobs for process engineers, equipment technicians and facilities-support engineers and technicians. Intel believes the indirect impact of the fab on businesses will generate more than 10,000 long term jobs in Arizona.
"Intel is a global manufacturing and technology company, yet we think of ourselves as a leading American innovation enterprise," Krzanich says. "America has a unique combination of talent, a vibrant business environment and access to global markets, which has enabled U.S. companies like Intel to foster economic growth and innovation. Our factories support jobs — high-wage, high-tech manufacturing jobs that are the economic engines of the states where they are located."
As one of the largest semiconductor manufacturers in the world, the majority of the company's manufacturing and R&D takes place in the United States where it employs more than 50,000 people.
Intel says Fab 42, a 7 nanometer semiconductor fabrication plant, will be the most advanced chip making facility in the world. The processers made in the fab will enable artificial intelligence, autonomous driving and medical devices, power servers and sensors, and more.