Electric vehicle (EV) OEM Renault and energy storage house Connected Energy are collaborating on a way to use end-of-life EV batteries in affordable vehicle charging solutions.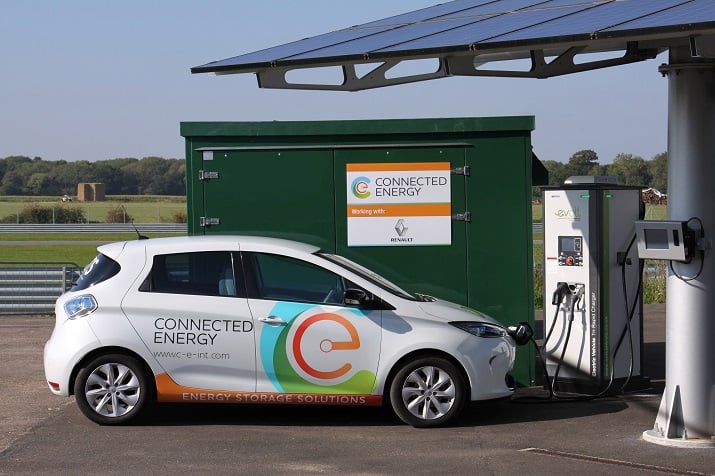 The collaboration will take recycled EV batteries to be used in other energy storage applications. (Source: Renault)Renault says that even at the end of vehicle life, Renault EV batteries still have a considerable remaining capacity and could be used in other energy applications before they are ultimately recycled. As EV and hybrid vehicles become more ubiquitous worldwide, the energy requirements to charge them is also increasing realizing new and different ways to generate energy storage.
Connected Energy through its E-STOR energy management system is offering a new way to give used EV batteries a "second life," Renault says. For example, E-STOR could be used to store energy generated from on-site renewable generation resources such as solar panels and wind turbines to be used at a later time. The system allows these used batteries to be charged via low-cost, off-peak times allow users of solar panels to reduce energy costs.
Connected Energy uses Renault EV batteries and the first E-STOR product is nominally rated at 50kW/50kWhr, which can be used to support one rapid charger or a cluster of fast chargers. Other higher capacity units are expected to be launched in the future, Renault says.
The system can enable the installation of rapid EV charging in sites where electricity supply would traditionally only allow slower rates. Instead, Renault says, charging vehicles via a high-capacity supply directly from the grid, E-STOR allows multiple batteries to be charged at a slower rate over a period of time.