The world's first controlled environment to test the potential of connected and automated vehicle technologies is open, with a goal toward mass-market safe driverless cars. At the University of Michigan (U-M) in Ann Arbor, 32-sprawling acres feature simulated urban and suburban roads, intersections, traffic signs and signals, streetlights, building fronts, sidewalks and construction sites. Mcity was designed by the U-M interdisciplinary MTC in partnership with the Michigan Department of Transportation, to create a safe yet realistic place where technologies are tested before vehicles hit the real road.
Testing will include connected technologies whereby vehicles communicate with each other or to the infrastructure (V2V or V2I), all the way to fully autonomous vehicles. Mcity is designed so that even minor details such as graffiti on road signs and faded lane markings challenge the accuracy of driverless vehicles. In addition to Mcity, MTC currently has three on-roadway connected and automated vehicle deployments underway. With support from the Michigan Economic Development Corporation, MTC is building on a nearly 3,000-vehicle connected technology project launched three years ago to create a major deployment of 9,000 connected vehicles operating across the Ann Arbor area.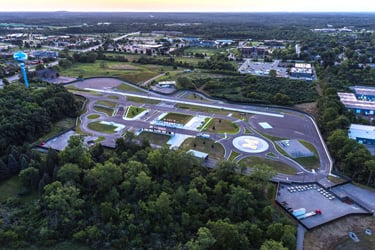 Mcity campus where testing of connected and driverless vehicles can be done safely on the road to mass production. Source: University of MichiganMTC also partners with industry and the Michigan Department of Transportation (MDOT) to put 20,000 connected vehicles on the road in Southeast Michigan. The third piece of the plan calls for deploying a 2,000-vehicle mobility service of connected and automated vehicles in Ann Arbor. A key MTC goal is to put a shared network of connected, automated (including driverless) vehicles on the road by 2021.
MTC partners include automakers and top tier auto suppliers, but also traffic signal and traffic sensing companies, insurance providers, telecommunications, big data and IT. On the public side, MTC is working with federal, state, and city governments. The center brings together faculty and students from across U-M to explore the web of engineering, business, law, urban planning, policy, and social challenges that must be addressed.
Approximately $10 million has been invested in the test facility to date, with funding coming from U-M and MDOT. Mcity will be available for use by any organization, but priority will be given to MTC partners and U-M faculty and students.
MTC is working closely with 15 Leadership Circle member companies, each investing $1 million over three years, and engaging in thought leadership. Thirty-three Affiliate Members are also contributing, and investing $150,000 over three years.
Related Links: