Analog Devices has launched the 7XX family of its BlackFin general-purpose digital signal processor (DSP) with an enhanced 32-bit capable core and a migration to 40nm.
The company's DSPs are intended to support a broad portfolio of uses in areas such as industrial imaging, audio and automotive applications and with the move to 40nm Analog Devices has optimized the family for a relatively low clock frequency, the maximum is 400MHz and power consumption of less than 100mW.
The previous generation of BlackFin, the 6XX family, could be clocked at 600MHz but consumed about 400mW, at that point according to Andrew Lanfear, product marketing manager for processors at Analog Devices Inc. (Norwood, Massachusetts). "We use ARM in some products. ARM with floating-point and NEON can do some DSP but it is not the same as a real-time DSP. ARM has multilevel caches which can be a problem," said Lanfear.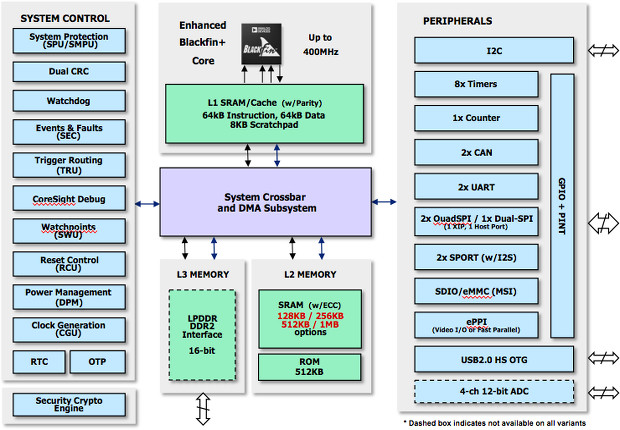 Blackfin 7XX block diagram. Source: Analog Devices.
The BF70x range has a new 16-bit BF+ dual-core that runs additional instructions over the previous generation including single-cycle 32-bit math operations. This allows it to achieve 800 million 16bit multiply-accumulate (MAC) operations at 400MHz or 400 million 32bit MAC operations. ADI claims this is double the performance or half the power of competing devices. The chip also includes up to 1Mbyte of on-chip SRAM, eliminating external memory in many applications, while a second configuration features an optional DDR memory interface.
"The BF+ core can do 32bit add, or two 16bit operations in a single cycle. It can do a single-cycle complex multiply. It offers a 30 percent plus improvement in cycle count for FFT and complex math," Lanfear told Electronics360. The combination lets the BF70x pitch for use in a variety of 16- and 32-bit processing use cases in portable and battery-operated audio and industrial imaging and building controls as well as portable and automotive audio.
Software please
With software IP protection a growing industry concern, the ADSP-B70x Blackfin processor has an onboard crypto hardware accelerator that features fast secure boot with decryption and authentication. For always-on safety critical applications, the BF70x series also provides high data integrity with parity and error-correction code (ECC)-protected memory circuitry. ADI's new line of highly integrated Blackfin processors is available in single QFN or 1BGA packages starting at under $4.00 each in quantities of 1,000 units.
Increasingly system developers are looking for system-level help in shrinking time to market. In others words large parts of the software need to be pre-written by the hardware provided leaving the system company scope to add value in the user experience and physical lay out of a product. ADI has developed considerable libraries of audio and video application software, including such things as occupancy sensing, video imaging codecs JPEG, H.264 and audio codecs MP3 and WMA. There are also toolboxes of imaging and audio building blocks such as asynchronous sample rate converters and multi-band graphic equalizers. Software developed by ADI is available license-free while some additional material such as Dolby and DTS algorithms are also available via a software license.
Analog Devices has third-party support for its Blackfin DSPs from real-time operating system providers Express Logic and Micrium.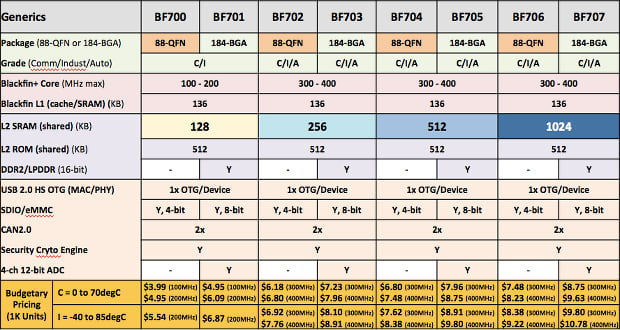 Eight variants of the Blackfin 70X. Source: Analog Devices.
Lanfear said that the company has been providing samples of BF70X chips for a couple of months and that it would be able to provide limited volumes over the next year with mass production intended to come in the middle of 2015.
Related links and articles:
News articles:
ISSCC: FDSOI Takes DSP Down to 400mV
Synopsys Buys Application Processor Pioneer