In an otherwise tepid marketplace for electronic components, microelectromechanical system (MEMS) motions sensors represent a bright spot in 2013. Ongoing demand for mobile devices – specifically smartphones and tablets — will drive revenue for these tiny machines to $1.5 billion this year, up 13 percent from 2012, according to IHS.
The growth of MEMS motions sensors in wireless devices is being driven by four key factors:
· The robust sales of smartphones and tablets
· The boom of Chinese smartphone makers
· The fast adoption rate of pressure sensors
· The addition in some cases of a second gyroscope in the camera modules for optical image stabilization
Motion sensors have become one of the most dynamic segments in the overall MEMS market, paving the way for next-generation, gesture-based menu navigation in the user interface of cellphones, according to Jérémie Bouchaud, director and senior principal analyst for MEMS and sensors at IHS.
While accelerometers and electronic compasses are already standard in smartphones, other MEMS devices are also gaining traction. Pressure sensors that can help with indoor navigation came to greater prominence in 2012 as Samsung adopted the MEMS device in high-end smartphones more aggressively than expected. After Samsung, Sony and other smaller handset manufacturers, such as Xiaomi from China, also started equipping smartphones with pressure sensors.
Four suppliers claim an 84 percent share of the market for MEMS motion sensors, according to IHS. Last year, French-Italian STMicroelectronics led the field with a 48 percent share, followed by Japan's AKM with 18 percent, German-based Bosch with 10 percent and InvenSense from California with 9 percent.
After 2013, there will be two more years of double-digit increases for MEMS motion sensors before the market starts moderating in 2016 with $2.21 billion. By then, more than 6 billion motion sensors will ship in mobile handsets and tablets, up from just 1.6 billion units in 2011.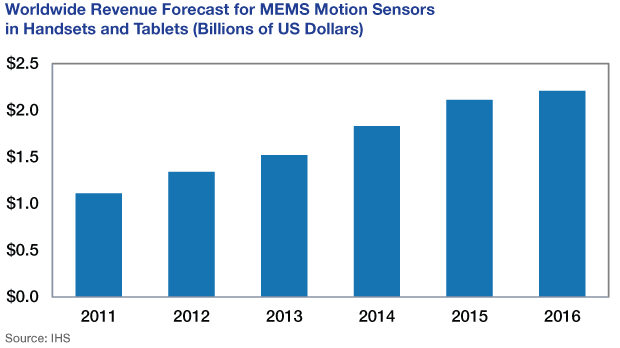 Worldwide Revenye for MEMS Motion Sensors 2011-2016