Aerospace
Murata on Mars
10 February 2023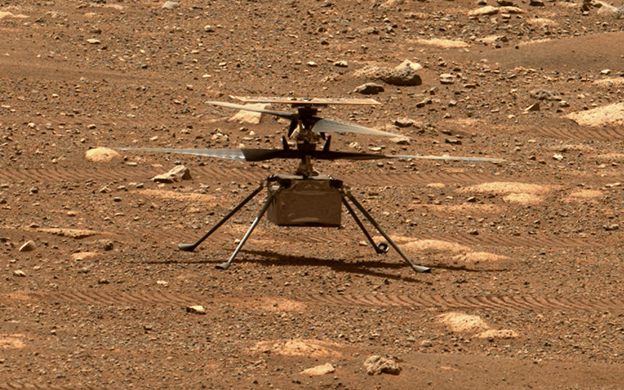 Figure 1: The Ingenuity helicopter, the first machine aerial vehicle to fly on a planet outside of Earth, was precisely engineered to withstand extreme conditions and pioneer a new series of flights upon Mars. Source: Murata Manufacturing Company
NASA "launched" a mission that would attempt to fly a helicopter on Mars. Murata Manufacturing Company helped them achieve that goal.
NASA's ongoing Mars Exploration Program uses Finnish technology, which was developed and manufactured by Murata Manufacturing Company. The Ingenuity helicopter, the first machine aerial vehicle to fly on a planet outside of Earth, was precisely engineered to withstand extreme conditions and pioneer a new series of flights upon Mars with the assistance of the most durable and reliable products and solutions. The seven-year design process took place at AeroVironment's clean lab facility where Ingenuity came to fruition.
NASA's Ingenuity helicopter started exploring Mars in July 2020 with the help of Murata's SCA100T dual-axis inclinometer. Murata's inclinometer helps to eliminate inclination errors so the system can operate the flight accurately. Precision is a key part of the process in this program as the inclination signal on Mars is approximately one-third of the signal measured on Earth.
Murata designs and manufactures the highest accuracy three-axis inclination. They have components that feature direct inclination angle output, making it a perfect choice for a variety of different use cases and applications. The best shock durability of the MEMS market provides trouble-free measurements in moving machines, vehicles, airplanes, construction machines, handheld devices and, of course, Martian helicopters.
Attached to the belly of the Perseverance rover, the two landed on the surface of Mars in February 2021. Once the pair landed 200 million miles away on Mars, the Ingenuity helicopter deployed from the Perseverance rover and began hovering around the red planet.
The Ingenuity helicopter featuring Murata's technology is no more than 50 cm tall and 1.8 kg, or about the size of a box of tissues. However, the small design is a product of complex science and engineering. NASA engineers were faced with designing a helicopter that was compact enough to fit inside of the rover but include rotors that could spin fast enough to generate lift off. These blades were ultimately designed to spin around 1,900 RPM to 2,200 RPM, compared to Earth's helicopter blades, which spin between 400 RPM and 500 RPM.
It was no small feat to land this technology on Mars. Temperatures of -148° F, 40% gravity and less than 1% air pressure result in poor flying conditions. Since gravity on Mars is one-third the gravitational pull of Earth, it's easier to lift off on Mars, but makes pre-deployment testing difficult. At NASA's Jet Propulsion Laboratory's (JPL's) space simulator facility, a large vacuum chamber was filled with carbon dioxide gas to simulate the atmosphere on Mars to prepare for flight. Additionally, engineers were responsible for keeping Ingenuity safe, warm and charged during its launch and exploration. Finding solutions meant experimenting with all the right materials, like metallized polyamide film, which created a thermal management system for the "brain" of the helicopter, or rather the box that stores its camera, computing boards and batteries. Once it was determined that this film could act as an insulating layer, the brain of the operation was able to withstand the sometimes -130° F temperatures on Mars. To keep the batteries charged, engineers discovered that a solar panel was the solution. Photons would hit the rectangular board and thrust them into the battery for sustained energy.
After many months of research and testing, NASA's Ingenuity helicopter and Perseverance rover were trusted to withstand these harsh conditions, even with the 20 minute communication delay it takes for messages to reach the rover from 200 million miles away on Earth. Ingenuity and Perseverance will spend the equivalent of one Mars year on Mars, a total of 687 Earth days.
The original test flight was able to lift the Ingenuity helicopter off the ground in less than a minute. Ingenuity's maiden flight had 10 ft lift off the ground, or about the height of a basketball hoop. In its first five flights, Ingenuity flew a combined 91 ft total, or the height of an eight-story building. With more experiments, the helicopter has continued to expand the height and range of its flights.
These test flights suggest a promising future for what is in store for NASA's Mars Exploration Program. NASA's main mission was to simply prove that they could launch the helicopter. As humans continue to explore Mars, NASA's goal is to use cameras in the unmanned autonomous vehicle flights to search for potential traces of life on Mars in future explorations of the planet.
For more information on the product that made its way to Mars, check out Murata's inclinometers and their portfolio of sensor products on their website.
Find Free Electronics Datasheets