Electronics and Semiconductors
TechInsights Teardown: Ford F-150 Lightning electronic control unit
03 February 2023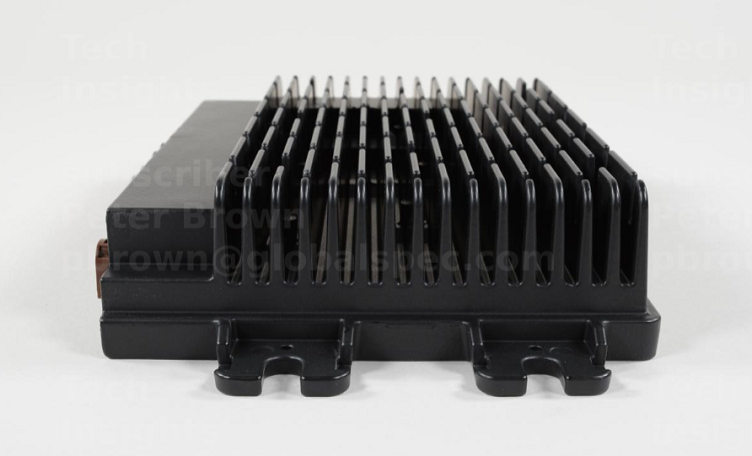 The automotive industry is in the middle of its largest transition in its history as OEMs begin to switch from gasoline- and diesel-powered vehicles to electrified versions.
Most OEMs are eyeing a transition that will happen over the next decade with a majority of vendors saying by 2035, fleets will be electrified. Some are starting faster than others and rolling out new vehicles that can take advantage of consumer demand for new electric vehicles (EVs).
Ford has gotten involved big time with its own plans for multiple EVs coming. It also released its Ford F-150 Lightning, an electrified version of its most popular pickup.
The F-150 Lightning electronic control unit (ECU) is the heart of the vehicle that controls the major components of the vehicle including applications processors for advanced driver assistance systems (ADAS) and more.
The following is a partial deep dive into the F1-50 Lightning ECU.
Summary
ADAS applications processor
768 MB DDRL SDRAM
512 MB LPDDR4x SDRAM
Release date: April 2022
Availability: Global
Target market: Automotive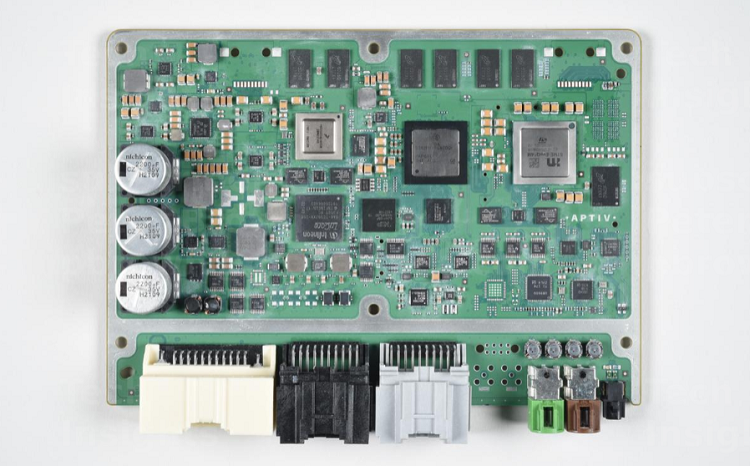 The top side of the main board of the F-150 Lightning ECU contains the main memory and processors for the pickup. Source: TechInsights
Main board — Top
The top side of the main board of the F-150 Lightning ECU includes an Infineon 32-bit microcontroller and 128 MB of NOR flash memory. Also, it includes the 512 MB mobile LPDDR4x SDRAM and 128MB of DDR3L SDRAM memory from Micron. Other electronic components include:
Texas Instruments' 10A step-down DC-DC converter, single and dual LDO regulator
ST Microelectronics' 8KB serial EEPROM memory
Mobileye's vision system-on-chip
On Semiconductor's dual buffer, single inverter and power MOSFET
Analog Device's 10-bit SDTV video decoder and 10-bit SDIHD video decoder
Maxim's DC-DC converter and step-down DC-DC converter
NXP Semiconductors' ARM Cortex-A53 64-bit CPU and CAN transceiver
Nexperia's triple three-input AND gate
(Learn more about microcontrollers on Globalspec.com)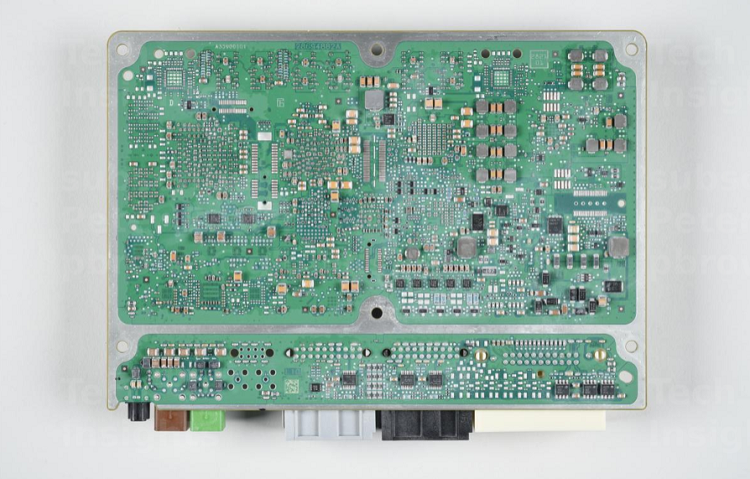 The bottom side of the main board of the F-150 Lightning ECU has more of the discrete components and power management ICs. Source: TechInsights
Main board — Bottom
The bottom half of the main board of the Ford F-150 Lightning ECU contains numerous other components such as:
Infineon's high-side power switch, dual MOSFETs and NOR flash memory
Texas Instruments' automotive comparator, four-bit bidirectional voltage-level translator, 4A load switch, step-down DC-DC converter
On Semiconductor's dual buffer, single inverter, non-inverting three-state buffer and power management
(Learn more about discrete components on Globalspec.com)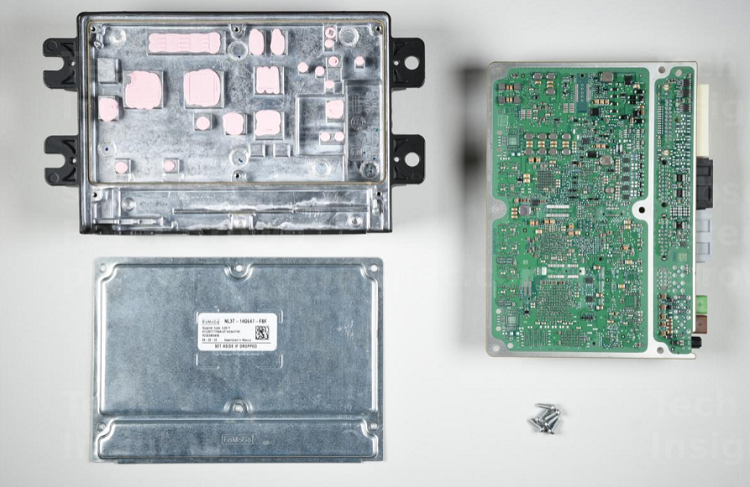 The overall components of the F-150 Lightning electronic control unit. Source: TechInsights
Manufacturing cost breakdown
$114.77 — Integrated circuits
$25.79 — Modules, discretes and connectors
$16.47 — Non-electronic parts
$15.63 — Substrates
$13.57 — Component insertion
$2.78 — Card test
$1.65 — Final assembly and test

Find Free Electronics Datasheets