While smart cities will encompass a variety of internet of things (IoT) connected devices, machines and infrastructure, a key aspect will be integrating smart vehicles into the overall ecosystem.
Smart vehicles will involve integration of communication, mapping, positioning, network and sensor technologies for cooperative, efficient, intelligent, safe and economical transportation. For decades, vehicular ad-hoc network (VANET) was used to focus on improving computing paradigms for vehicular network connectivity.
But with the deployment of 5G networks, VANET is giving way to the internet of vehicles (IoV) to provide a vehicular environment with powerful infrastructures.
"VANET was primarily conceived to inform drivers about harsh conditions or emergencies happening nearby," said Naercio Magaia, a professor at the University of Lisbon. "IoV, on the other hand, uses artificial intelligence (AI) technology to provide higher-level services such as information about traffic jams based on user location and personal preferences."
While IoV is in the nascent stages, there are still aspects to consider before it can be implemented such as how many devices and services can a framework handle? How best can users access the information and how secure is the network?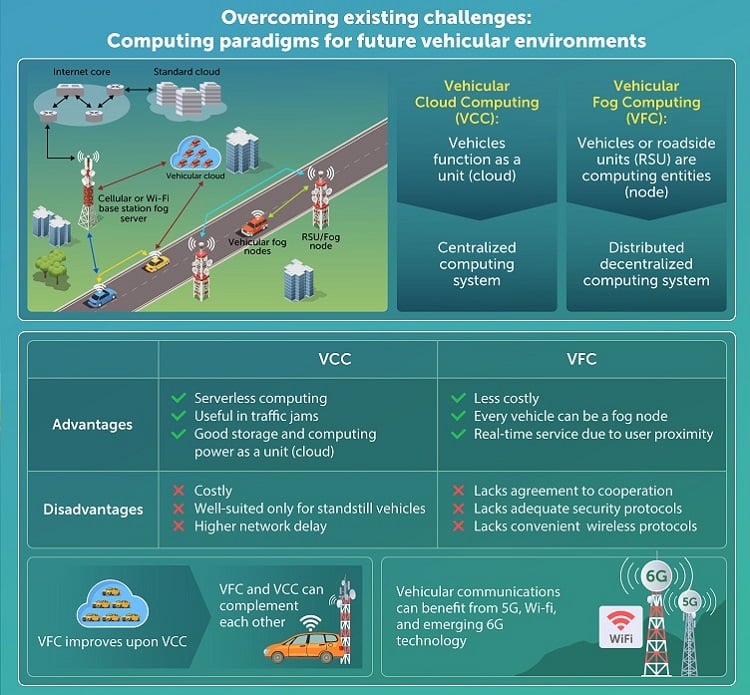 VFC and VCC can be complementary to each other if smart vehicles will be able to interact with smart cities. Source: University of Lisbon
The University of Lisbon looked at two main ways to improve IoV: vehicular cloud computing (VCC) and vehicular fog computing (VFC), where computing entities are either distributed as roadside units or in the vehicles themselves.
The team said that for intelligent vehicular networks to be truly integrated with smart cities in real-time applications, these two paradigms must complement each other. For example, during traffic congestion, vehicles can function as a unit (cloud) while performing fog node computations simultaneously. The union of these technologies such as software-defined networking, 6G mobile networks and server-less computing is where the future lies.
"We believe that by 2050, with such research, billions of devices will form an internet-of-everything (IoE)," Magaia said. "Future safer driving is imperative. This kind of research is expected to revolutionize how the driver and traffic relationship around the world works. Vehicles will be 'smarter,' giving more comfort to the driver and passengers. From a social perspective, vehicles become an extension of the drivers' individuality, embedded in everyday life just as smartphones are after almost 12 years of existence as we know them."
The full research can be found in the journal IEEE Xplore.