Smart cities will be a new area of focus at CES 2018, as the show, set for next week in Las Vegas, launches a dedicated exhibit area and a schedule of relevant conference programming. The Smart Cities Marketplace will include smart-city-enabling technology such as artificial intelligence systems, sensors, data analytics,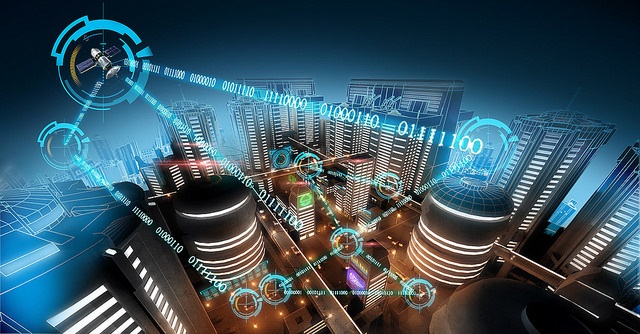 Future connected city at work. Source: JCT 600/CC BY-SA 2.0transportation, network infrastructures and other devices and services. The subject will be covered in a number of sessions during conference programming, focusing on 5G technologies and public/private partnerships, as well as featuring experts in utilities, health, safety and other public services.
While the idea of connected cities, where drivers are safer, traffic is lighter and energy is more efficient, has been the focus of internet of things (IoT) solution providers in recent years. Madrid, Dublin and Stockholm are among a number of locales that are pursuing a smart city strategy. The most recent is Columbus, Ohio.
Columbus is the second largest city in the midwest, following Chicago. The city has so far received $40 million in funding from the U.S. Department of Transportation, in addition to $10 million from Vulcan Inc., and has positioned itself to become the blueprint for the future of urban planning. Rather than concentrate on the number of city dwellers traveling daily, the new smart city initiative is focused instead on how they are traveling. Smart city planners are looking at mobility and transportation as areas in which the IoT can bring safety and efficiency to Columbus.
The city has close to 900,000 residents. Last year, traffic accidents and fatalities increased, so the current, pressing goal is to save lives by connecting the cityscape and improving the manner in which people get around. One solution is implementing integrated data exchange, which will collect information from sensors installed on traffic lights and from other databases, analyze the data to determine which intersections are prone to accidents and which streets are frequently blocked off, and then alert drivers — or even vehicles — accordingly.
Ninety-five percent of Columbus' traffic accident fatalities are the result of human error. Smart cities reduce the reliance on human judgment in a traffic situation. The aim is to prevent accidents from happening in the first place. Radar and cameras will be able to distinguish between living things and inanimate objects. A camera-oriented collision avoidance system will alert city bus drivers to pedestrians and pets. And, enhanced LED streetlights in residential neighborhoods will make driving less dangerous at night.
Data analysis is key to keeping connected cities safe. Los Angeles, for example, tested a program based on software that can predict earthquakes. Officers were directed to patrol areas — often quite small — that were flagged as crime "hotspots." The prediction software was piloted for one year and reduced crime by 13 percent, reported GeekWire.
Smart cities leverage artificial intelligence and data analytics to correlate the information harvested from digitally connected individuals, equipment, devices, automobiles, transportation facilities and other sources to formulate predictions. By automatically tuning all system elements, the urban experience can be made more efficient and user friendly.
Original source for smart cities photo can be accessed here.