Mouser Electronics, Inc. is now shipping the FireBeetle ESP32 IoT Microcontroller from DFRobot. This low-power board is designed specifically for internet of things (IoT) applications and boasts a deep-sleep mode that draws only 10 microamps.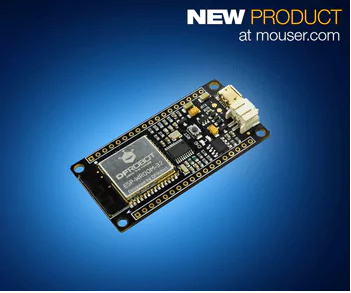 Source: Mouser
The DFRobot FireBeetle ESP32 IoT Microcontroller is built around an Espressif Systems ESP32 microcontroller module with integrated Wi-Fi and dual-mode Bluetooth connectivity. The high-performance module offers dual CPU cores: one to handle high-speed connections and one for standalone application development. The microcontroller supports USB and 3.7-volt external lithium battery power methods. The battery can be charged directly by the USB and external DC, making it ideal for low-power IoT projects.
The ESP32 IoT Microcontroller is compatible with FireBeetle covers and accessories as well as DFRobot's Gravity Series modules. The microcontroller is also pin-compatible with Arduino Uno and supports the Arduino integrated development environment (IDE), MicroPython programming languages and Espressif IoT Development Framework (IDF).
To learn more about this product, visit the Mouser site here.