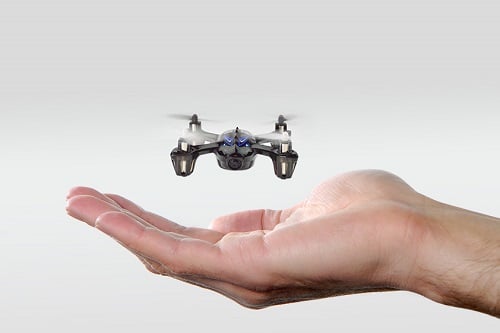 Drones are shrinking in size but the computer chips that operate them are not. Source: MITDrone technology has been getting smaller with the rise of swarms and even micro-drones the size of a bumblebee loaded with tiny sensors and cameras.
But as other components of drones have gotten smaller, one part has not — the computer chip that operates the brains of the machine.
Computer chips for quadcopters and other drones process streaming data from cameras and sensors and interpret the data on the fly to autonomously direct a drone's pitch, speed and trajectory. These chips consume between 10 and 30 watts of power, supplied by batteries that would normally weigh down micro-drones.
MIT says it has designed a computer chip that uses a fraction of the power of larger drone chips and is as small as a bottlecap. The key to this new chip is the hardware and the algorithms that run on it.
"Traditionally, an algorithm is designed, and you throw it over to a hardware person to figure out how to map the algorithm to hardware," say Vivienne Sze, an associate professor in MIT's Department of Electrical Engineering and Computer Science. "But we found by designing the hardware and algorithms together, we can achieve more substantial power savings."
The new chip processes images at 20 frames per second and carries out commands automatically to adjust a drone's orientation in space. The chip performs these computations while using just below 2 watts of power.
MIT is calling the design the first step toward engineering the smallest intelligent drone that can fly on its own. MIT envisions these drones in disaster-response and search-and-rescue missions in which insect-sized drones fly in and out of tight spaces to examine collapsed structures or look for trapped individuals.
"Imagine buying a bottlecap-sized drone that can integrate with your phone, and you can take it out and fit it in your palm," says Sertac Karaman, an associate professor of Aeronautics and Astronautics at MIT. "If you lift your hand up a little, it would sense that, and start to fly around and film you. Then you open your hand again and it would land on your palm, and you could upload that video to your phone and share it with others."
How They Did It
MIT built a specialized chip from the ground up, developing algorithms to process data and hardware to carry out that data-processing in tandem.
Researchers made changes to the algorithm commonly used for drone motion and implemented different versions of it on a field programmable gate array (FPGA). Then they developed a method that balances accuracy against power consumption and the number of gates.
This chip data was then used to stream images and measure distance from previous drone-flying experiments. "These experiments are also done in a motion-capture room, so you know exactly where the drone is, and we use all this information after the fact," Karaman says.
Each time a version of the algorithm was implemented on the FPGA, researchers observed the amount of power the chip consumed as it processed the incoming data. The most efficient design processed images at 20 frames per second and accurately estimated the drone's orientation in space, while consuming less than 2 watts.
The team believes it can shrink this amount of power to just a few hundred milliwatts, and during the summer, MIT will test a drone's flight performance while mounted to the FPGA chip. Ultimately, MIT says it will implement the algorithm on an application specific integrated circuit (ASIC) to allow engineers to design specific types of gates directly on the chip.