Consumer-grade PCs function well in controlled environments like offices, but they may succumb to dust, contaminants or other unfavorable conditions commonly found on a manufacturing floor.That class of applications demands robust, rugged machines that change infrequently, can withstand numerous abuses and can outlive generations of consumer machines.
Why Industrial Computers?
Conventional personal computers (PCs), laptops, tablets and similar instruments of destruction depend for their survival on delivering the features and capabilities that most people want at a reasonable (read "competitive") price. They undergo enhancements and improvements on an accelerated schedule to encourage people to trade up frequently. Most consumer-PC users take advantage of hardware and software designed for that platform that continue to function on subsequent backwards-compatible computer generations. Those users don't generally acquire or develop peripheral hardware or add-on software that locks down the computer's architecture and may introduce incompatibility issues that become increasingly inconvenient over time.
Many industries can't function without proprietary hardware and software tailored for a specific task. A computer may provide signal driving and data-management functions for product testing, for example. Enhancements or upgrades may prove incompatible with the custom content, forcing customers to either continuously tinker with it or resign themselves to always running on obsolete computers, dramatically complicating routine maintenance, as well as plans to add or replace hardware stations or upgrade system performance.
Consider, for example, the more than 10 percent of PC users even today who continue to run Windows XP, despite the fact that Microsoft stopped issuing security upgrades and providing other support in 2014. For many industrial applications, migrating XP computers to Windows 10 or some other alternative and re-engineering the custom content would incur unacceptable costs in time and money.
Unlike their consumer counterparts, industrial computers don't generally come as turnkeys. You must assemble them from a sometimes blinding array of options, requiring dozens of decisions on features and capabilities. The complexity and cost of this effort helps to explain why some engineers settle for the consumer solution.
In her white paper, "Configuring Your Industrial PC," Camella Giancursio of L-Tron Corporation attempts to reduce the effort and pain of pursuing an industrial-computer solution. She begins by explaining differences between the two computer categories and presenting a list of industries and applications that would benefit from this approach. Although the list provides a starting point for discussion, Giancursio stresses that it is incomplete and recommends consulting an expert if you have any doubt whether your situation belongs on it.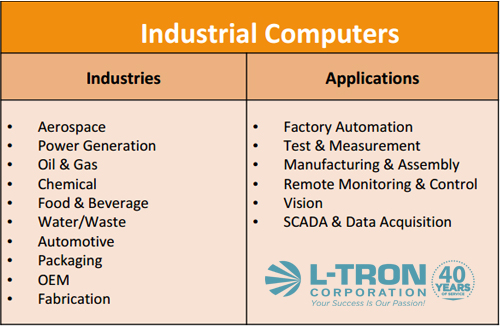 Situations that could benefit from industrial rather than consumer PCs. Source: L-Tron
Questions, Questions
As a first step, Giancursio links to a three-part introduction by L-Tron Product Specialist Jeremy Miller, who offers 10 useful tips to get started. They include:
The form factor of the PC you build will depend on your available space and the application's performance requirements. Chassis-based computers offer rack-mount, wall-mount and desktop configurations and 5 to 20 I/O expansion slots. If you don't have sufficient space for a chassis, you might choose an I/O-intensive small form-factor embedded PC, a touch-panel computer or—for greater capability—a panel PC or an industrial-panel PC. Chassis PCs provide the most flexibility of the form-factor options, offering the largest number of I/O slots.
How much power do you need to meet your application's demands? Power-supply requirements may also limit your choice of form factor.
How many I/O cards will you need, and conforming to what bus standards? Do you need cards that support the ISA, PCI or PCIe, for example? Again, this decision may limit your form-factor choice.
On-board I/O decisions include video resolution, communication speed and conformance standards. Do you need video as sophisticated as HDMI or will a less-sophisticated DVI or VGA provide the necessary performance? For bidirectional communication, do you need RS-232, 422 or 485 serial connectors? Ethernet? USB 2.0, 3.0 or 3.1?
How much memory? A 32-bit operating system can support no more than 4 GB of memory, so installing more will not improve system performance. Windows 10 and other 64-bit systems allow expansion past 4 GB.
Depending on your application's storage demands, you can add conventional hard drives, solid-state drives, compact flash, and mSATA drives. If the system experiences only limited vibration and noise, conventional spinning-disk hard-drives deliver the most cost-effective choice. Conventional drives offer greater storage and cost less than solid-state drives, but solid-state drives contain no moving parts and offer faster read-and-write times.
RAID—a redundant array of independent disks—can provide data backup and improved system performance. It comes in several configurations. Your selection determines its redundancy model and the number of drives you will need.
Miller states, "Industrial PCs are built to last 10+ years in harsh and rugged environments." That level of stability allows expanding the number of machines in service (by ghosting, for example) to meet increasing demand without introducing incompatibilities that could compromise the results.
Making the Decisions
What type of computer can perform the tasks you require? Do you need a display, for example? Virtually all consumer-grade PCs include one. In laptops and tablets, designers have incorporated displays into the cases around the computer electronics. Giancursio suggests that applications such as monitoring and control or data acquisition likely need a display, while with factory automation, test and measurement, manufacturing and assembly, the display may prove superfluous.
If you need a display, choose one with a well-designed human-machine interface (HMI) that allows operators to monitor system progress and redirect the process easily when necessary. Touch-panel computers (TPCs), panel PCs (PPCs) and industrial panel PCs (IPPCs), however, drive monitor activities from an embedded printed-circuit board, limiting configuration flexibility. Ranking these alternatives from most to least rugged yields IPPCs, PPCs and TPCs, in that order.
Some configurations require a fan to prevent overheating, while others go fanless. If you need a fan, choose the best compromise between adequate cooling, noise and power consumption. This selection may also constrain form-factor decisions.
Embedded PCs contain no fan and take up less space than the stand-alone variety, but the model that you choose locks you into a particular processor/memory combination and limits I/O expansion. If you select an embedded PC but still need a monitor, consider a flat-panel display. Your application and security protocols may allow you to add an optical disk for read-only, write-once-and-read-only, or read/write additional storage.
Whatever hardware configuration you select must work efficiently with your chosen operating system.
The source articles include links to considerable additional information.
Sources:
White papers:
https://www.l-tron.com/guide-how-to-configure-your-industrial-pc
https://l-trondirect.com/blog/10-tips-for-successful-industrial-pc-configuration-part-i/
https://l-trondirect.com/blog/10-tips-for-successful-industrial-pc-configuration-part-ii/
https://l-trondirect.com/blog/10-tips-for-successful-industrial-pc-configuration-part-iii/
Millions of PC users continue on Windows XP: https://nakedsecurity.sophos.com/2016/04/11/millions-of-people-are-still-running-windows-xp/
Corporate Web site: https://www.l-tron.com/products/industrial-rugged-computers/