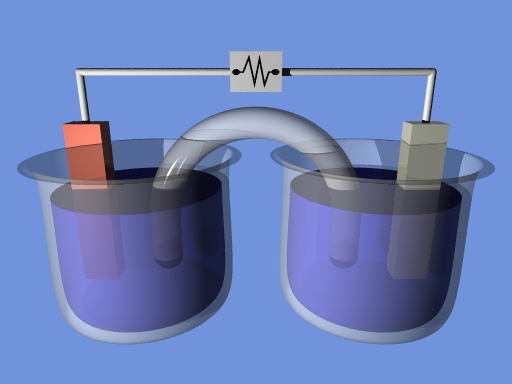 Illustration of an electrochemical cell, the basic building block of batteries. Source: Alksub/CC-BY-SA-3.0A promising new high-energy magnesium battery, with potential applications ranging from electric vehicles to battery storage for renewable energy systems, has been developed by researchers from the University of Houston and the Toyota Research Institute of America.
After confirming that chloride — a commonly used component of electrolytes — contributes to sluggish performance, the researchers incorporated chloride-free electrolytes into their battery design. The new device, which also uses an organic quinone polymer cathode, can store and discharge far more energy than earlier magnesium batteries.
The current version can deliver up to 243 watt-hours per kilogram, with power measured at up to 3.4 kilowatts per kilogram. It also remains stable through 2,500 cycles. Yan Yao, associate professor of electrical and computer engineering at UH, said that future research will focus on further improving the specific capacity and voltage for the batteries.
The development of high-energy magnesium batteries has been an elusive goal for decades, as scientists have sought to find suitable cathode and electrolyte materials to complement the magnesium metal anode. The goal nevertheless has been pursued because magnesium offers several advantages over lithium: the element is far more common, and therefore less expensive. It is also not prone to breaches in its internal structure, which can cause lithium batteries to explode and catch fire.
Electronics360 and Engineering360 previously have reported on other efforts to develop usable materials such as magnesium batteries, including this one led by scientists at Berkeley Lab, this one led by the National Renewable Energy Laboratory (NREL) and this one led by Toyota.
The new research was first reported in the journal Joule.