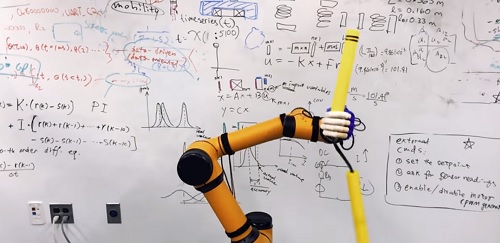 The prototype could change how industrial automation robots interact. Source: New Jersey Institute of TechnologyThere has been a lot of chatter about the dangers of robotics being used as weapons of late. But it is doubtful people envisioned this nunchuck-wielding machine to be the nightmare they were expecting.
While it probably isn't a good idea to teach robots martial arts because of Skynet and all, it seems like more of a novelty ability than a real-world application.
However, the New Jersey Institute of Technology project is more of a demonstration teaching robots complex manual tasks rather than just being a cool party gag.
The research into how robots can learn to swivel their arms could open up new abilities for the machines in the industrial workplace, taking jobs performed by humans today. Learning complex manual tasks could allow robots to handle objects that are partly soft and partly rigid without destroying them such as assembling car interiors or fruit picking.
The robot, which is a bionic hand equipped with a motion-capture glove, was taught the criteria for spinning the nunchucks and then used self-evaluation as it practiced. The team says it only took a robot a matter of hours to learn how to spin the nunchucks around the back of its hand and catch it again.
The full research of the robot's development and its real-world uses can be found here: https://arxiv.org/abs/1709.03486
Video via Science.