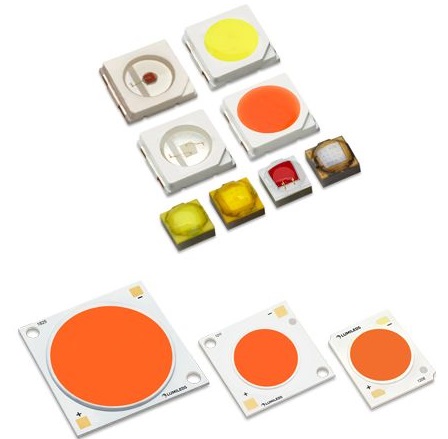 The new additions to the SunPlus LED series. Source: LumiledsLumileds has introduced three new light emitting diode (LED) products designed specifically for use in horticulture lighting.
The LEDs offer both greenhouse and vertical farming applications the ability to increase yield in their crops and interweave fixtures to tune the spectrum specifically for different crops.
The three LED additions include a far red, deep red and purple LEDs. Purple is designed for greenhouse applications where attaining high PPF and fast time to market are top priorities, Lumileds says.
The addition of the SunPlus 35 line joins other colors existing in the series such as royal blue, lime and three shades of purple with varying contributions of blue in a 3.5 x 3.5 mm format. Lumileds also offers a CoB purple product where greenhouse lighting requires deep penetration into the plant canopy, which is achieved with a directional CoB. This form factor also means standard optics, holders and drivers are available for manufacturers to accelerate time to market, the company says.