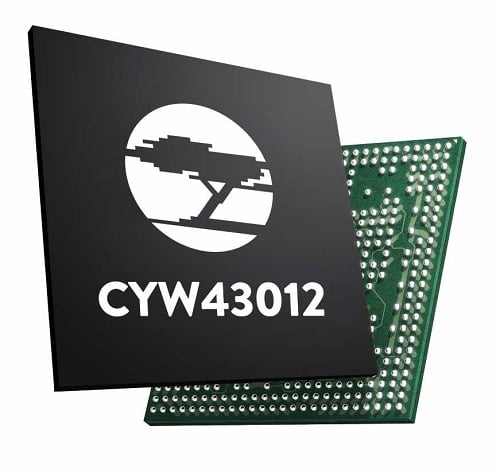 The CYW43012 combo chip. Source: Cypress Semiconductor Cypress Semiconductor Corp. has introduced an ultra-low power WiFi and Bluetooth combo chip designed to extend battery life for wearables, smart home products and other internet of things (IoT) applications.
The CYW43012 chip is built on 28 nm process technology to cut power consumption up to 70 percent in receive mode and up to 80 percent in sleep mode compared to other devices, Cypress says. The combo chip is IEEE 802.11a/b/g/n-compliant and 802.11ac-friendly so it is compatible with 802.11ac access points using standard modes.
The chip is an all-inclusive, turnkey, WICED studio IoT development platform that helps streamline the integration of wireless technologies for developers.
The CYW43012 combo chip is currently sampling to lead customers with full production expected in the fourth quarter of this year.