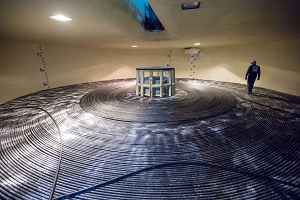 The Marea cable coiled on a ship. Source: RUN Studios
The highest-capacity subsea cable to cross the Atlantic now connects Virginia Beach in the U.S. to Bilbao, Spain, transferring data at a staggering rate of 160 Tbps. The 4,000 mile-long cable was built by Microsoft Facebook, and Spanish telecommunications company Telxius to bolster high-speed connectivity in Europe and beyond.
The landing point of Marea—Spanish for "tide"—in Spain opens the door to network hubs in Africa, the Middle East and Asia. The system's vast bandwidth will help meet the increasing demand for internet and cloud services in these regions.
The bundle contains eight pairs of fiber optic cables sheathed in copper, a hard-plastic protective layer and waterproof coating. For most of its length, the Marea lays exposed on the ocean floor, although some sections near shore are buried to prevent complications from ship traffic.
About 1.5 times the diameter of a garden hose, Marea delivers speeds more than 16 million times faster than the average home internet connection, and is capable of sending eight times the entirety of the U.S. Library of Congress' collection in a single second.
Operations are expected to begin in early 2018.