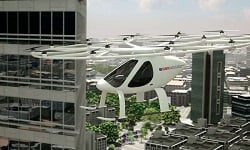 Dubai's drone taxi. Source: Volocopter
The autonomous hover-taxi under development in Dubai has successfully completed an initial "concept" flight, albeit without passengers.
The prototype from Volocopter of Germany features nine independent battery systems, 18 rotors as well as emergency parachutes. The electric-powered two-seater drone taxi can travel for 30 minutes at a maximum speed of 100 kilometers/hour (62 mph).
Dubai's Road and Transport Authority plans to transform 25 percent of the city's mass transit services to autonomous driving. Users will be able to book the air taxi and track its movements with an app.
Another five years of testing is also planned before taxi patrons can take to the sky.