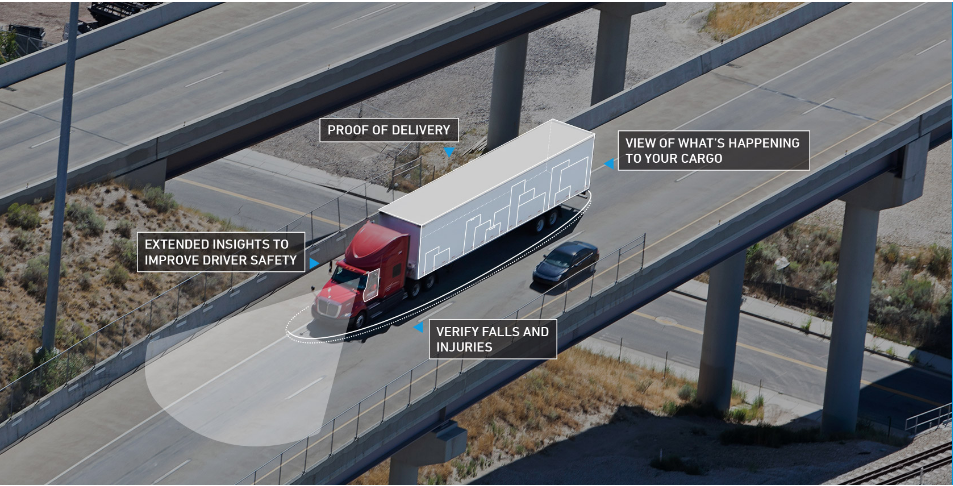 Source: Lytx
Lytx is making it possible for fleet and operation managers to virtually be in a car or in the field when they need to the most with the new Lytx Video Services.
Lytx Video Services combines an event recorder and video cameras that are all cloud-connected and easy-to-use. The services can help eliminate fleet and operations blind spots that keep fleets from being productive. The video services would have a video camera rolling when cargo is stolen, when a rookie driver takes the truck out for the first time, when an accident happens and more. The video services provide a way for managers to see exactly what is going on with their drivers and trucks, eliminating the dependence on eyewitnesses, who can sometimes be unreliable.
There are a few benefits of Lytx Video Services. Lytx provides video evidence that can help companies evaluate both driving and non-driving processes and procedures to improve the effectiveness of the operations. The video evidence also provides proof or confirmation of a true story. Managers no longer have to question the legitimacy of a claim. Lytx can also help reveal new revenue-generating opportunities to improve customer service.
Lytx Video Services is available as an integrated service enhancement to the DriveCam safety program that helps organizations pinpoint and extract risk from their fleet. The services have a host of video functionality that is about the ease of using video and where the video is captured.
The DriveCam program with Lytx Video Services uses the Lytx ER-SF64 event recorder equipped with features to give the user a lot of video and data. It has a driver-facing lens that captures only 12- or 20-second exception-based video clips that are triggered when a driving event occurs. An outside lens has a continually recorded video option and a livestream option to the manager's location when he or she needs to see what is happening in real time. It also has an onboard, cloud-connected DVR with a 64-gigabyte memory, which is enough to store video for about a week's worth of vehicle operations. There are advanced sensors on the recorder that capture critical data about driving events, including accelerometers to detect speed, gyroscopes to detect motion and GPS to detect location. The recorder has easy connections to third-party PAL or NTSC-based cameras that enable 360-views in and around the vehicle.
Data and video from the DriveCam program and Lytx Video Services are accessed through the new Lytx Workspace to efficiently manage fleet safety and operations functions. The Workspace has been enhanced to include a DriveCam program dashboard with prioritized coaching events, at-a-glance driver ranking and more to help fleet managers and coaches spend their time where it is needed.
Users can livestream video in the Workspace and customize their program settings in the Workspace to streamline what recorded video they choose to watch and/or download.
Lytx Video Services uses a highly configurable system of tagging to organize video that allows the user to simply search and find video clips that are related to specific tags.
Users can choose the length of the video clip they want and download it without delay. Clips from the continually recording camera views, including third-party cameras are gathered, synchronized and delivered to the user's Workspace dashboard.
Lytx Video Services will be available by first quarter of 2018.