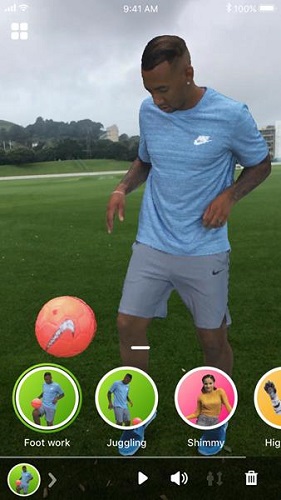 A hologram of Jerome Boateng, a soccer professional, as part of the Holo app. Source: 8i Software maker 8i has released a new augmented reality app for iOS mobile devices that lets users place 3D holograms of real people and animals in photos and video that you can move around and interact with.
The Holo app uses Apple's ARKit and 8i's volumetric video technology for a new way to create content with both real and virtual human performances in augmented reality. The company has also signed up artist Jhené Aiko, pro soccer player Jerome Boateng, "Glee" star Harry Shum Jr., Buzz Aldrin, dancer Chachi Gonzales, mixed martial artist Anderson Silva and others to be included in the AR platform.
The Holo app offers a wide range of poses, iconic characters, celebrities, athletes and entertainers, as well as original characters and animals.
"The arrival of iOS 11 and ARKit marks the first time millions of people can experience true volumetric video on a mass-market consumer device," says Steve Raymond, CEO of 8i. "With ARKit, Apple has ignited a groundswell of enthusiasm from developers reminiscent of the initial introduction of the iPhone. It's clear that the ways we work and play are going to be deeply impacted by immersive computing in ways we haven't yet imagined."
Holo is the first app built using 8i's proprietary volumetric video technology and the company is building a full technology stack for enabling real human content and communications of human holograms on any device or platform. 8i is also working on tools to enable the AR app development community to build and deliver a range of applications featuring human content.
The Holo app is available worldwide for free download on the App store for iPhone 6S or later models. You can download it from the iTunes app store.