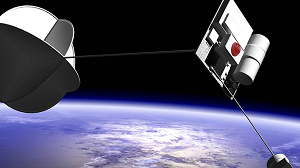 The ultimate parting gift for those who love space. Source: ThumbSatNow there's an opportunity for the dearly departed to spend some time in Low Earth Orbit.
Celestis Memorial Spaceflights (Houston, Tex.) is providing a service wherein a portion of cremated remains is launched into near-space. In partnership with UK-based ThumbSat, the ashes of up to 2,000 people will enter orbit over a decade.
ThumbSat will provide the microsatellites (which can also be used to propel experiments into space) for these final journeys. The satellites are smaller than CubeSats: 24 ThumbSats, each measuring 48 mm2, can fit on a CubeSat frame. About 1-4 g of the deceased's ashes will actually be built into the structure of the satellites through 3D printing and honeycomb structures, and will accompany magnetometers, GPS modules, cameras and other sensors to provide scientific data for the Earth-bound.
The microsatellites will orbit for six weeks as data is gathered, and then will burn up on re-entry to the Earth's atmosphere. But not to worry, the launched loved one will endure. "You basically become a shooting star. Some of you, your particles, will remain in space: you'll go back to the universe," says ThumbSat founder Shaun Whitehead.
Celestis plans to launch satellites in January 2018 aboard a Rocket Lab Electron vehicle from New Zealand. A four-satellite mission for the Mexican Space Agency on an Ariane rocket will follow.
The company subsidizes the cost of ThumbSat missions, driving the price down from £15,000 ($20,000 USD) to about £4-5,500 ($5,332-$7,333 USD). The relatively low cost for entire missions—including the thumb-sized satellite, launch and deployment—will provide opportunities for schools to launch their own experiments, says Whitehead.