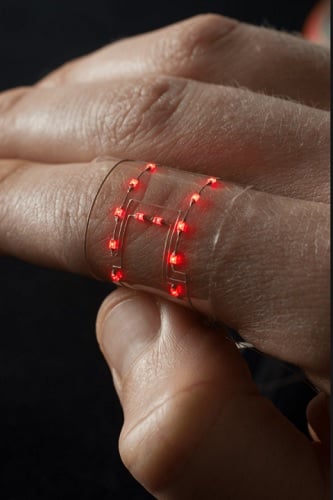 A completed hybrid 3D printed wearable conforms to the curve of the skin. Source: Harvard University Wearable electronic devices must accommodate the movements of the body with the ability to flex around muscles and joints.
But rigid electrical components have proven to be a challenge because these components can't stretch or dissipate like soft materials can. Researchers at the Wyss Institute for Biologically Inspired Engineering at Harvard University have created a new additive manufacturing technique for soft electronics, called hybrid 3D printing, that integrates soft, electrically conductive inks and matrix materials with rigid electronic components into a single stretchable device.
"With this technique, we can print the electronic sensor directly onto the material, digitally pick-and-place electronic components and print the conductive interconnects that complete the electronic circuitry required to 'read' the sensor's data signal in one fell swoop," says Alex Valentine, a staff engineer at the Wyss Institute.
The conductive ink is made of thermoplastic polyurethane (TPU), which is a flexible plastic that is mixed with silver flakes. Both pure TPU and silver-TPU inks were printed to create the devices' soft substrate and conductive electrodes, respectively. Because both the substrate and the electrodes contain TPU, when printed layer-by-layer they adhere to one another prior to drying. After the solvent evaporates, both inks solidify forming an integrated, flexible and stretchable system.
During the printed process, the silver flakes in the conductive ink align themselves along the printing direction so their flat, plate-like sides layer on top of one another. This alignment improves their ability to conduct electricity along the printed electrodes.
"Because the ink and substrate are 3D printed, we have complete control over where the conductive features are patterned, and can design circuits to create soft electronic devices of nearly every size and shape," says Will Boley, Ph.D., a postdoctoral researcher in the Lewis lab at SEAS.
Researchers combined printed soft sensors with a digital "pick-and-place process" that applies a modest vacuum through an empty printing nozzle to pick up electronic components and place them onto the substrate surface in a programmable manner.
The devices once fully assembled can be stretched up to 30 percent while still maintaining function. A device composed of 12 light emitting diodes (LEDs) attached to a flat TPU sheet created using this method was able to repeatedly bend into a cylindrical shape without reduction in the intensity of the LED's light or the mechanical failure of the device.
The full research can be found in the journal Advanced Materials.