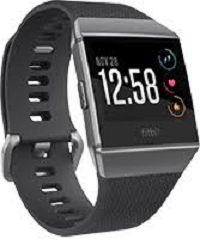 Source: Fitbit
New tools to better help diabetics manage their health will result from a partnership between continuous glucose monitor (CGM) developer DexCom and health wearables developer Fitbit.
Fitbit's new smartwatch, Fitbit Ionic, will be equipped with DexCom CGM data, enabling Android or iOs users to track both activity and glucose levels, right on their wrist.
According to the World Health Organization, more than 400 million people around the world are living with diabetes. The ability to see both physical activity and glucose can be a vital tool for diabetes management in this population.
The Ionic health and fitness platform offers a highly personalized experience not available in other smartwatches. Ionic features a relative SpO2 sensor, GPS tracking, on-device dynamic workouts, improved heart rate tracking and water resistance up to 50 meters. Smart features include contactless payments, on-board music and smart notifications. The device also delivers all the core features from Fitbit such as four-plus day battery life, automatic activity and sleep tracking, and cross-platform compatibility.
With Fitbit's in-app Community, Dexcom CGM users will now be able to connect with millions of people, where they can ask questions, seek support and share successes in managing their health.
The companies are targeting availability as soon as possible in 2018 and will continue to explore opportunities to work together to develop tools and resources aimed at helping people better manage their diabetes.