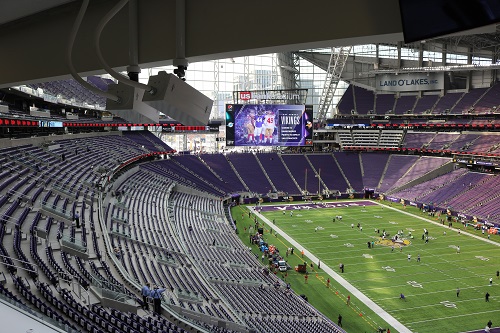 Intel's freeD technology gives new perspectives to watching NFL games. Source: IntelThe National Football League season is all set to begin the 2017 campaign and this year 11 NFL stadiums will feature the immersive technology of Intel's freeD technology.
Each stadium will use 38 5K ultra high-definition cameras to capture football plays from every angle and create enhanced 360 degree highlights and player perspectives.
Stadiums with the freeD technology already installed include the Baltimore Ravens, Houston Texans and San Francisco 49ers. However, Intel is working with eight other teams in each division in the AFC and NFC. These teams include the Arizona Cardinals, Carolina Panthers, Cleveland Browns, Indianapolis Colts, Kansas City Chiefs, Minnesota Vikings, New England Patriots and the Washington Redskins.
"By expanding freeD to more teams across the NFL, we're empowering fans to see every side of the play and relive the excitement of game-changing moments," says James Carwana, GM of Intel Sports. "During Super Bowl LI, fans experienced a pivotal play from the quarterback's point of view. Seeing key plays up close and from new perspectives is redefining what it means to watch the game."
The freeD technology includes servers that process up to one terabyte of data per 15 to 30 second clip. After this data is captured, the video is fed through miles of fiber-optic cables in a control room where the production team virtually recreates a selected clip in 3D into a new vantage point for fans.