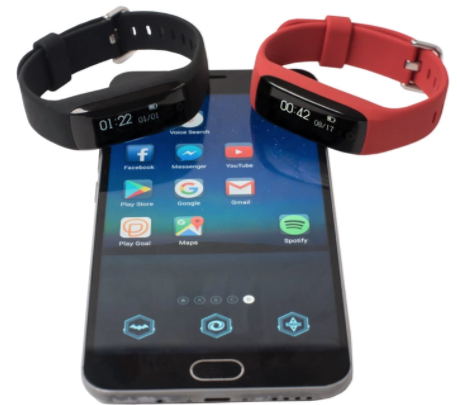 This fitness band for kids tracks exercise, then unlocks mobile devices. Source: PlayGoal In an age where tablets and mobile devices dominate not just adult lives but the lives of our children it is becoming increasingly difficult to motivate kids to exercise or play outside.
With more than 56 percent of children between the ages of 8 and 12 now owning a smartphone, according to the National Consumers League, PlayGoal has figured out an inventive way to limit screen time and motivate kids to engage in physical activity.
PlayGoal has introduced a fitness band for kids that allows them to earn screen time. After a set amount of time playing outside or doing physical activities, the band tracks this activity and then unlocks tablets or other mobile devices once the physical goals have been met. The band syncs with these mobile devices and only when the goals have been met does it allow children to play on the devices.
"This fitness band can change lives for good and actually motivate children to take part in more physical activity," says Brittany Oler, one of the founders of PlayGoal. "It helps create a system whereby you, the parent, no longer have to play the bad cop and your child feels he or she is in control. We are really excited about the launch and believe this will be one of the most innovative technologies of 2017."
The company has started a Kickstarter campaign to raise funds for the completion of the project and to create word-of-mouth. To check out the Kickstarter, visit: https://www.kickstarter.com/projects/beawesome/play-goal-be-active-earn-screen-time