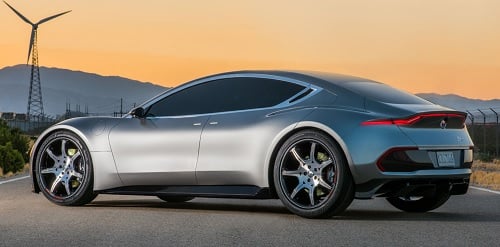 The EMotion electric vehicle prototype. Source: Fisker
Fisker Inc. is partnering with Pirelli Tire North America to deliver advanced low rolling resistance tires for the upcoming Fisker EMotion luxury electric vehicle.
The P Zero tires will allow the EV to achieve better handling and extra comfort due to tall sidewalls. The EMotion EV is slated to launch in late 2019 and will feature a range of more than 400 miles, support autonomous driving, fast-charging of 125 miles in nine minutes and will have internet connectivity for automatic updates streamed directly to the vehicle, Fisker says.
"Our goal is to make the best handling electric sports sedan on the planet, with the most comfortable ride, and Pirelli is essential to achieve our goals," says Henrik Fisker, chairman and CEO of Fisker Inc. "Pirelli is world famous for designing some of the highest performing tires on the market. Incorporating their low-rolling resistance technology into the EMotion really completes the equation where groundbreaking supercar design elements and technology meet the very best in performance."
The tires will be produced in Rome, Georgia, which goes along with Pirelli's 'local for local' approach to manufacturing products for North America.
Fisker says it is also exploring possibly using the noise canceling system and connected tire technology features from Pirelli.
The EMotion EV is slated for production in the U.S. with a starting price of $129,900.