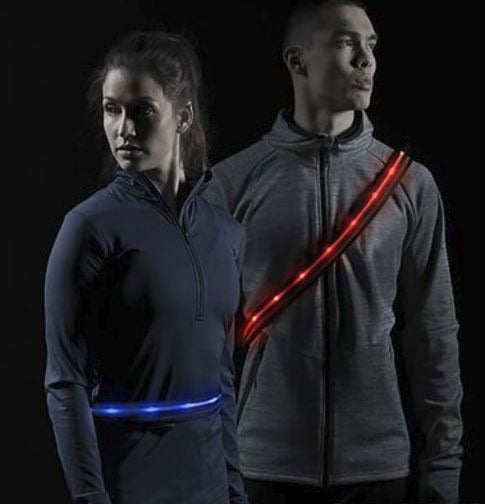 The LumaGlo Crossbelt. Source: LumaGlo
LumaGlo has announced the retail availability of the Crossbelt. The Crossbelt provides 360-degree wearable illumination that allows outdoor lovers to remain safe in their environments at night. LumaGlo's design replaces construction-style vests and neon suspenders that are currently on the market for night adventurers.
The Crossbelt offers 360-degree visibility and illuminates users from all directions. The Crossbelt's bright, multicolored LEDs function in eight patterns and allows wearers to be seen from blocks away. Its automatic brake light feature uses an integrated accelerometer to alert others when the wearer stops by automatically causing the LEDs to switch to a strobing red pattern. In the event of an emergency situation, the bright red strobe setting can be activated.
The belt can be worn as a belt or sash, whichever one the user prefers. The Crossbelt comes in two sizes and can fit over bulky clothes, backpacks and bags. Rain and freezing temperatures won't affect Crossbelt because of its rugged materials and design. Users can recharge the belt with the micro USB cable. One full charge lasts from three to six hours, depending on what mode it is in.
The Crossbelt is available at LumaGlo.com and Amazon.com for $49.95.