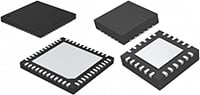 The MAX14819. Source: Mouser
Mouser Electronics is now stocking the MAX14819 IO-Link® master transceiver from Maxim Integrated. The architecture of the MAX14819 reduces power dissipation by up to 50 percent. It is fully compatible with all models for IO-Link and SIO compliance to allow designers to incorporate intelligent sensors into Industry 4.0 or industrial internet of things (IIoT) applications.
The Maxim MAX14819 dual-channel IO-Link master transceiver has an integrated internal frame/UART that enables the most flexible architecture while achieving fast cycle times of up to 400 microseconds. This allows designers to lower bill of materials (BOM) cost by eliminating the UART dependency from the microcontroller. The device has robust L+ supply controllers with settable current limiting and reverse voltage/current protection that helps ensure robust communications with low-power consumption.
The transceiver has two low-power sensor supply controllers with advanced current limiting, reverse current blocking and reverse polarity protection that enables low-power robust solutions. The device provides a selectable driver current, supports supply voltages from 9 to 36 volts. The MAX14819 has a low typical on-resistance of just 1 ohm that helps reduce low power dissipation.
The Maxim MAX14819 dual-channel IO-Link master transceiver is available in a 48-pin, 4 millimeter-by-4 millimeter, thin quad flat no-lead (TQFN) package that is specified for -40 degrees Celsius to +125 degrees Celsius.
To learn more about this product, visit Mouser.